How Custom Organization Benefits the Entire House: Video Testimonials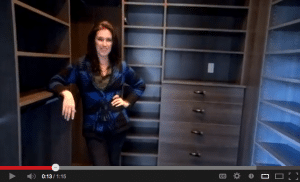 Our home organization solutions often start in the closet but they certainly don't end there. In fact, the unique advantages of custom organization apply to all kinds of living spaces, from closets to home office, guest rooms, family rooms and kitchen pantries.
Additionally, a rapidly growing number of customers are coming to us for garage storage solutions.
When you listen to these customers' testimonials, you will see that solution-driven design and individual attention are at the core of their satisfaction.
"Elly understood immediately what I wanted to do," says Minneapolis resident Sharon, who asked Elly to design a guest room in her basement, with a wall bed and built-in cabinets. "We sat on the floor for hours and measured everything, worked out every detail."
Laurie March, a busy designer/project manager and owner of Improvemental who now hosts her own HGTV show, The House Counselor, calls on Los Angeles Closet Factory designer Sue Breitrose for all her storage solutions. "It was incredibly important to nail the schedule as well as provide the storage needs for this client," March says of the master closet project, made with sophisticated Smoke melamine. "When I have a closet that I need to be perfect, I just call Sue."
"Thanks to Mary and Closet Factory we have a complete home office that we love," says New York resident Carol as she shows off all the features that are important to her family. Describing what their needs were—shelving for photo boxes, big drawers for school files, plenty of desk workspace and a comfortable computer area—Carol demonstrates how each one was addressed. Now she and her family are able to stay neat and organized.
Call now (800) 838-7995 to schedule a free design appointment. You can also request an appointment using the form on the right.