Custom Garage Storage Trends – Man Caves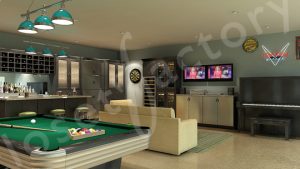 There is a new trend developing that indicates garages don't have to function solely as the traditional garage used only as a parking and storage area. Now they can be renovated to become an extension of the home's living space.
The new multi-functional garage can work as a home office, a hobby work area, a band practice facility, game room…or the new term, a man cave! But many of us may be wondering, what precisely is a man cave? We put forth this question to Kay Wade; VP of Design at Closet Factory and this is what she had to say:
"The premise of a man cave is that guys need a special place to hang out. A place that reflects their interests, becomes a personal refuge, or is just a place where they can be with their friends without disturbing others in the family, namely the wife! A man cave is a dedicated area of the house such as basement, workshop or garage where a man can be alone or socialize with his friends."
Putting a few generic cabinets and racks into a garage may help you add some additional storage. But, it's a long way away from creating that special sanctuary just for him. Luckily at Closet Factory everything we do is custom and specifically designed for how and where you want to store your items. Our designer will discuss with you how you currently use the garage, and what you envision for the man cave transformation. We make sure you will get maximum use of the space through custom cabinets, storage and accessories to turn a plain garage into the ultimate man cave! This is the perfect win-win garage storage solution so the man of the house will quickly agree to the purchase!
Take a look at these incredible garage storage designs. As you see these man caves are very special rooms that double as garages!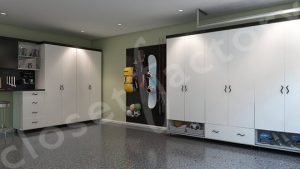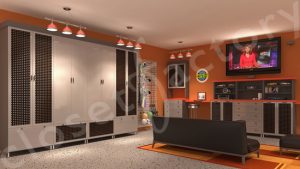 For more images and ideas of how to trick out your garage into a man cave, visit the garage design gallery.
Nicole L. Tate