Custom Closets: How Texture Can Make or Break Your Design
Once you decide on a custom closet you can rest assured knowing that organization will no longer be a concern. Your designer can help you choose a scheme to incorporate drawers, hanging sections, and accessories that will optimize your space and accommodate your wardrobe. Now comes the fun part; beyond accessories, you need to choose finishes for your new closet organizer, and we can provide simple tips to keep your design modern and exciting.
Closet Factory has many different options to spice up a closet beyond the bare bones. Velvet-lined drawers are a great way to add a luxurious aesthetic and create a boutique-like feel. In addition to the sleek and sophisticated look, the functionality is enormous. With expensive jewelry, dainty rings and delicate necklaces prone to tangle, a cushioned drawer will protect all your most precious pieces while keeping them organized. Additionally, by incorporating Lucite into your jewelry organization you can show off your sparkles, which are often the most eye-catching components of a closet.
And this brings us to our next approach to adding texture and dimension – Lucite or glass. Beyond jewelry drawers Lucite can be factored into multiple aspects of your closet, such as the toe-stops or doors. By employing a translucent door your closet is able to maintain a clean and minimal look while simultaneously boasting of its colorful and dynamic wardrobe. Drawer-fronts, as opposed to the usual wood or melamine, can be another slightly unexpected way to up the glamour factor of your walk-in.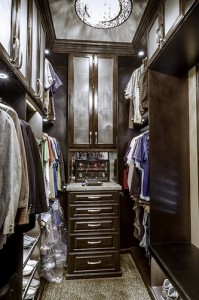 If you are aiming for a look that is a bit more gender neutral, or perhaps you aren't keen to showcase the mishmash of colors and patterns that live behind your closet doors, wood is a great option. Many people choose melamine for the basic construction of their closet systems because it is reliable and budget-friendly. But, we have a slew of wood textures that can add a wow-factor to an otherwise understated design. Ebony Artika, for example, under our specialty finishes can add a subtle pop with it's striped texture.
Too much wood, however, can come across overbearing, so we suggest incorporating other textures to break up any monotony. Instead of using basic wood or melamine for drawer fronts or closet doors, use linen or a woven texture, also found under our specialty finishes. Often times, someone will favor a neutral color palette and exclusively use texture to create any interest. A mixture of stripes, fabrics, and weights can complement a monochromatic look very nicely, and it acts as a fun alternative to a bold color.