Custom Closets: The New Status Symbol
Look no further than the pages of fashion and home magazines like InStyle, Town and Country and so forth to see that custom closets have become a status symbol similar to owning a luxury car or wearing designer clothing. Driving the trend are celebrity homes, many of which have plush, tricked out walk-in closets that feature flat-screen TVs, sound systems, wine bars, lounge areas, fireplaces and chandeliers. Some custom closets even occupy multiple levels with each level dedicated to showcasing a particular accessory.
For those who don't want to spend a million dollars on a custom closet system, it's still very feasible to get a sophisticated and stylized closet that fits your needs. Builders and homeowners have recognized the value of adding a custom or walk-in closet since they are on many homebuyers' must have lists. Surveys have shown that after the kitchen and bathrooms, the closet is one of the factors that homebuyers take into consideration when making a purchasing decision.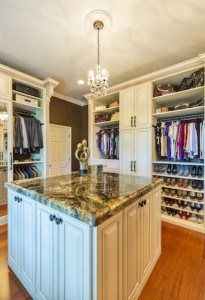 Nowadays, it's a must for a luxury home to have a walk-in closet and not just any walk-in closet, the closet needs to be custom designed and swoon-worthy.
Christopher Ritzert of TTR Sotheby's International Realty in Washington, D.C. had a $4.75 million condo listing that came with a built-in closet that resembled a stage set with automatic lights that revealed beautifully crafted cherry cabinetry and hand-carved handles. Ritzert said, "When everything else in a home is so well-thought-out, to have stopped at the closet door would have been a great disappointment."
This trend doesn't just stop at the shores of the U.S., Charles Smith of UK Sotheby's International Realty in London confirmed that for his business, custom closets are, "a status symbol and expected by the global wealthy who have very sophisticated designer clothes and accessories." In Britain, a 2012 study revealed that 45% of women surveyed listed a custom walk-in closet as their number one status symbol. Men listed a sound system in every room of the house as their first choice. One in five study participants said when they had guests, they loved to show off their latest household purchases and 26% of the women said buying a new household gadget was more exciting than buying a pair of shoes." Mark Swift of high-end appliance brand De'Longhi commented, "Styles and fashions may come and go but it seems we will never tire of buying status symbols for the house."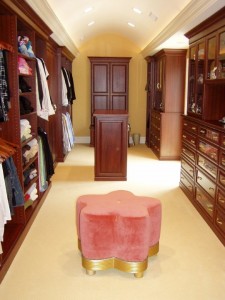 Another recent trend – those who own older homes, townhouses and urban condos are now creating big closets by annexing rooms near the master bedrooms and transforming them into walk-in closets. Carolyn Brundage of Schererville, Indiana received a walk-in closet as a gift from her husband who morphed a former nursery into a spacious closet with cherry wood cabinets, jewelry drawers and custom purse racks and shoe shelves. The closet is now larger than their bedroom. Brundage says the room is her respite. "It's the one place I feel is really my own room. Men have their man caves. I have my closet," she says. Her closet design was inspired by Carrie Bradshaw's closet in the 2012 film, Sex and the City. A New York couple took this inspiration one step further and hired the movie's set designers to create a $175,000 replica of the movie's closet in their home.
Closets have clearly evolved from being a storage place to a lifestyle space. They are not only a showcase for an owner's style and taste but a place that helps them relax. When one's dressing area is beautiful, organized and full of personal amenities, people feel less stress and are better equipped to face the day.