Custom Closets by Closet Factory Boston – HGTV
Closet Factory Boston was brought in to design a unique custom closet unit for the new HGTV Show 'My First Place' airing Thursday, February 24th at 8:00 pm ET/P (7:00 pm central).
This project was particularly challenging because at first we had little access to the client who would be utilizing the area and some rudimentary notes from HGTV as to what they thought should be in the space.  A little challenging to say the least.  I knew the client needed a lot of hanging and space for shoes.  I found out shortly after that the unit was being built on a knee wall and was only to be about 58" high – translation – no double hanging there. I finally spoke with the client and was able to design a unit that worked for his lifestyle and the space! – Laurie Miller, Closet Factory Boston Senior Designer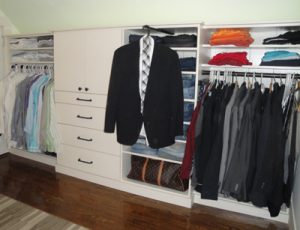 After the installation, the homeowner was so pleased with the custom closets that he sent over a raving review and testimonial of the designers' work:
I absolutely LOVE my closet that you guys installed for me.  My home was built in 1920 and apparently closet space was not a big priority back then.  HAHA!!  The closets that were in the house were very small and would certainly not accommodate a shop-a-holic like myself.  I absolutely LOVE everything about my closet…. the appearance, the quality and the functionality!!  I utilize everything from the extendable tie rack to the caddy that I hang my clothes on every night for the next day!!  Thank you so much for my DREAM closet!!   –  Andrew, HGTV's My First Place, Homeowner
For more information on Closet Factory Boston visit their website and request a free design consultation!