Custom Closet System Showcases Wedding Dress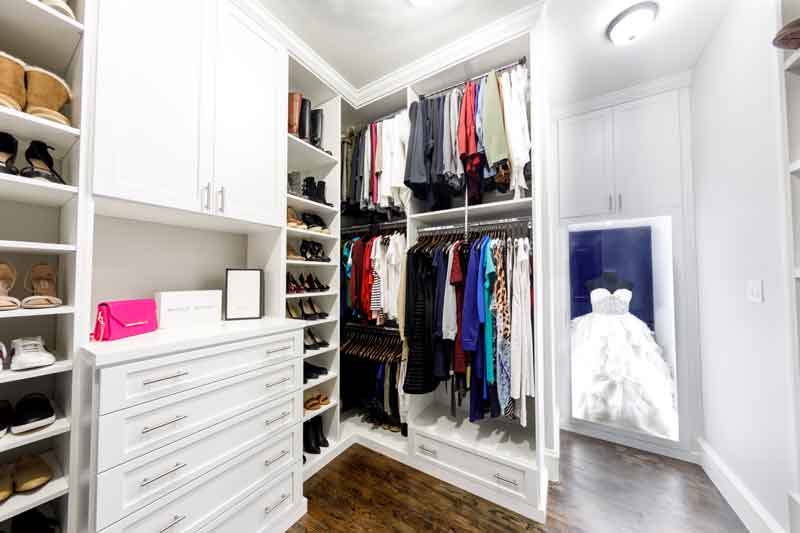 Designing a custom closet system for improved organization and boutique ambiance is nothing new for Closet Factory designers. However, recently Closet Factory's Houston designer, Hayley Gonzales, helped a client create an entire custom walk-in closet system designed around a gorgeous wedding dress. There are many people who use a display case to showcase their wedding dress inside of their walk-in closet because the dress reminds them of a very special moment in their life, the enclosed case protects the dress, and the display case adds glamor to their custom closet. You can create a wedding dress display case by following the following steps:
Create a space that is large enough to build an enclosed case for a full length dress
Build a cabinet to protect and surround the dress
Add a glass door that can be opened and closed easily enough for easy access to the dress
Add accent lighting around the door and above the dress for dramatic lighting
Hayley explained that her client even provided photos from the television show "The Real Housewives of Beverly Hills" that depicted a wedding dress inside of a glass enclosure.
"Yes, this particular project was a lot of fun. She had a really clear idea of what she wanted and the whole focus was on this wedding dress," said Hayley. "She wanted a special space to showcase the dress."
Hayley explained that her client even provided photos from the television show "The Real Housewives of Beverly Hills" that depicted a wedding dress inside of a glass enclosure.
"She wanted to have something similar to that," said Hayley.
Glass, Lighting, and Cobalt Blue
Designing a custom closet system with a wedding dress as the nucleus came naturally for Hayley who is also a long-time wedding stylist in the Houston-area.
"She had the perfect space for the dress because the closet had kind of an L-shape that allowed for showcasing the wedding dress and it didn't take away from the closet design," said Hayley.
However, Hayley had other challenges with the bridal dress closet design.
"There was an additional challenge because we had restrictions of how we could make a glass door so that it would hold up. She didn't want to have double doors because the seam in the middle would take away from the dress. So, we worked it out by making a 34-inch wide glass door," said Hayley.
To highlight the dress, Hayley added a center recessed puck light directly above the dress and wrapped LED strip lighting around the interior of the door so that the dress popped without seeing the lights.
"But what was really nice was that the client and I spent a lot of time figuring out what color to paint the inside of the case. We decided to paint the back wall a deep cobalt blue which really made the white wedding dress stand out," said Hayley.
While showcasing the wedding dress was the primary objective for the project, the custom closet system also needed to accommodate a lot of clothes and a lot of shoes as well.
"When I went to their house the first time to measure, there was no way the space they had was going work. That was a big of a challenge, but we made it work," said Hayley.
In order to maximize the space, Hayley created a custom closet system that went all the way to the ceiling.
"That 10 feet gave us the room to add an extra three rows of shelves and additional hanging space to accommodate the amount of clothing they had. That also allowed us to add the shelving for their shoes because they also had a lot of shoes that they wanted to showcase," said Hayley.
To maximize the space even further, Hayley added drawers, a pull down hanging rod, and tilt down hampers.
"They just love it. They couldn't be happier. Not only did it accomplish what she wanted as far as the wedding dress, but it improved their lives. She told me that now she can actually find things because before she had to dig under piles of clothes just to find a pair of shoes or something. I think it will make them an even happier couple," said Hayley.
By Vincent Aviani