Creating A Custom Kid's Closet for Sasha Lazard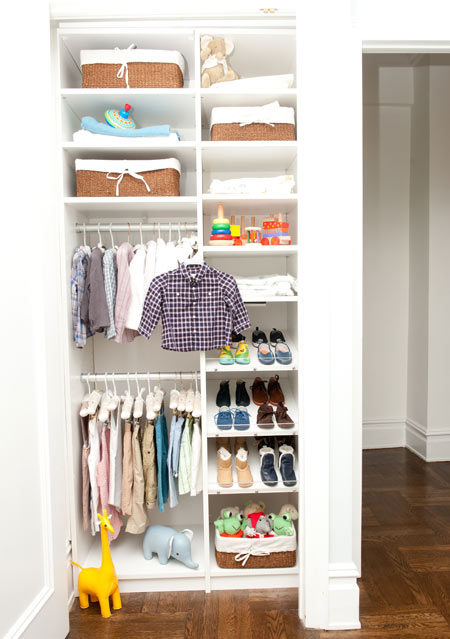 Academy Award nominated songstress Sasha Lazard wanted a more organized closet for her son. During our initial meeting, she expressed how important it was to have a place for all of her son's clothing and toys in the small closet space.
As the other designers and I toured her charming New York City apartment, we took into account the design elements and style of the apartment to incorporate into the closet design. We noted the luxurious fabrics dressing the windows from floor to ceiling, the calm blue wall coverings and the creamy white furnishings throughout the home.
Designing a nursery is slightly different than designing other types of closets. Nursery closets must have truly functional changeable components. Children grow, and their closet needs change. Keeping this in mind the European styled hanging rods and storage shelves were made to be adjustable in height.  One of the key elements is to be able to adjust the distance between hanging garments and shelving storage. Since space is at a premium, adjustability saves space.  As Sasha's son grows, his closet will grow with him.
We designed the closet system in a soft white melamine with muted brushed chrome round rods. It featured slanted shoe shelves with clear toe stops, clear doors and and drawer handles. Adding backing to cover the wall gave the space a built in feel look.
Sasha can now beautifully arrange all her sons clothing and toys. Now everything is at her fingertips and be special mementos are at in arms reach. Sasha's favorite accessory is the brushed chrome Valet Rod from our Synergy collection. It allows mother and son to pick out the outfit he will wear for the day.
Get a detailed look at  Sasha Lazard's Closet Design by going to her Style Page!  
To check out the image gallery & video check out Sasha Lazard's Closet Story.