Colorado Celebrates its 20th Year – Custom Closet Designs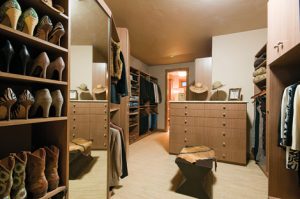 Master Closet
Closet Factory Colorado is proud to announce its yearlong 20th anniversary celebration. This franchise location was started in January 1991 with the sole purpose of becoming the destination manufacturer of custom closet systems to homeowners in the Denver metropolitan area. It has since grown into the largest closet company in Colorado and has since added two divisions, Murphy Bed Lifestyles and Office Factory. It also boasts an extensive 8,000 square foot showroom.
"Customers will find very basic, simple and functional closets to the very high-end closet systems; offices, a beautiful walnut book case, pantry, garage, and of course a number of Murphy beds. We also have an area dedicated as a Selection Center where our customers can pick out finishes, door styles, jewelry drawer inserts, laminate options, hardware, and hundreds of Closet Factory custom accessories. Its quite impressive." – Mark S. Lesikow, CEO and owner states when discussing the Closet Factory Colorado showroom.
To view this article in its entirety visit PR Web for the official Online Press Release.