Client Stories: A Home Office for Three
Melinda Cabot, a previous happy closet client, called Polly Lestikow of Closet Factory Colorado to help organize and manage an ever-increasing home-based business that she and her husband "accidentally" founded. Matt is a Police Officer and had been asked why Police Officers did not teach teens to drive, especially since they see the results of poor teen driving skills. Matt's response was: "Who better than a cop to teach the rules of the road?"
One thing led to another and Top Cop Driving School was incorporated and now employs 37 off-duty police officers, owns 5 training vehicles and teaches over 1,500 young drivers per year to be safe on the road. Polly was excited to contribute to the success and organization of this entrepreneurial venture and got to work!
As in all Closet Factory projects, the first goal was to identify organizational problems and plan solutions. Next, budgetary parameters were established and then aesthetics commensurate with the home were determined. Melinda was realistic in her budget and knew that the higher level of cabinetry in the adjoining rooms could not be achieved in the office space in her price range. Instead, she chose slab (flat fronts with slight edge detail) doors and drawer faces to keep to her budget and included nice trim elements and a solid surface top to enhance the look.
Having established the budget and the aesthetic requirements, it was time to tackle the organizational challenges.
Five main organizational needs were identified:
Provide three separate work stations for Melinda, her assistant, and Matt, the Top Cop who is 6'8"!
Provide several file drawers since working with the DMV requires many paper forms to be stored for years
Provide space for personal home management files, travel books, and mementos
Provide storage for 3-ring binders and other regulatory information
Provide storage for uniform paraphernalia such as shirts, hats, badges, and more for the cop instructors
The first need proved to be the most challenging, as work stations require not only desk space, but room for a chair to roll out from under the desk. The room wasn't small, but wasn't huge, so a peninsula into the center of the room added work space for Melinda and her assistant, while the other long wall allowed a higher-than-normal work space for the giant Top Cop, Matt. He was thrilled to have space for his legs!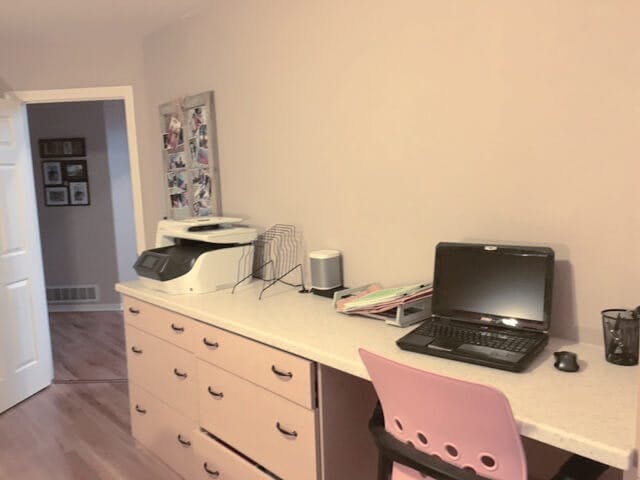 Bringing two of the work spaces into the center of the room also provided a solution to the next three challenges, as all of the space along the walls was available for storage. Double file drawers at all three stations provided a space-efficient way to store files and provided room for the business to continue growing.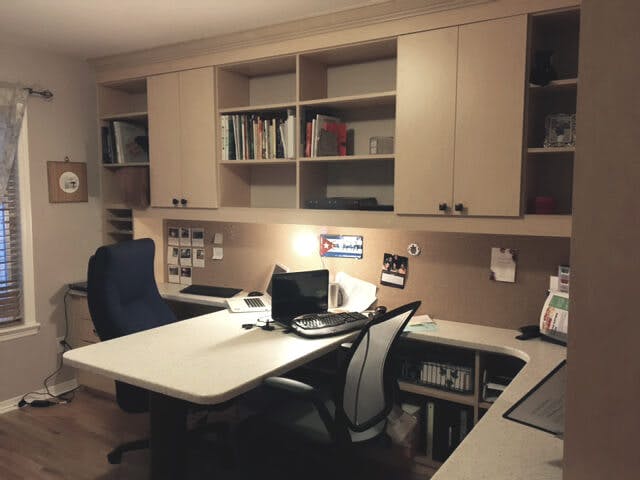 As a full-time school administrator, Melinda also needed space for her own professional files and books. She was able to designate files drawers for her personal and professional files, while open shelving and cubbies helped her organize her personal mementos, professional books and her beloved travel books.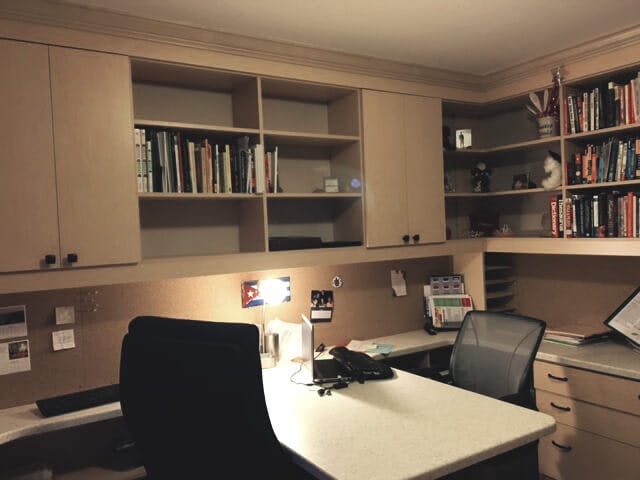 Finally, closed cabinets and under counter shelving helped to store unattractive 3-ring binders and personal and professional keepsakes, while a tall 24" deep cabinet above double file drawers allowed sufficient storage for uniforms. Needless to say, every inch of available space was used!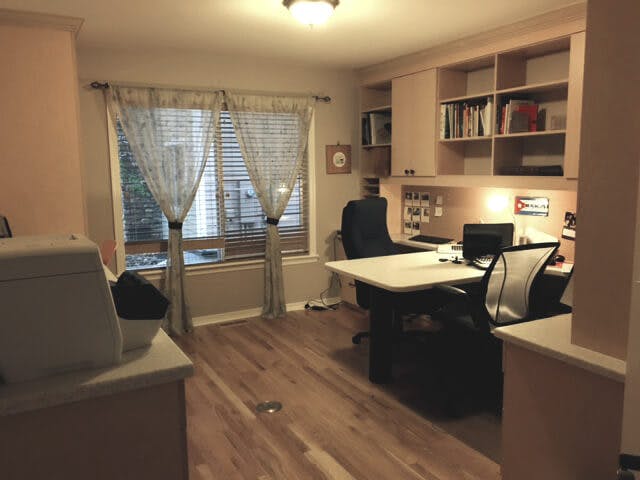 This project was challenging, rewarding and meaningful to the Closet Factory designer and exciting and rewarding to the Closet Factory client. A win-win for all!