How To Clean Your Closets. No, Really, How To Clean Your Closets!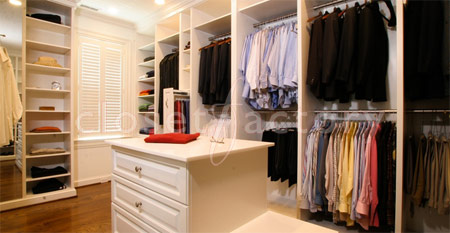 After installing a new closet organization system, we are quite often asked, "How do I care for this surface?" The answer is simple, with just a caution or two.
Prefinished laminates like melamine can usually be cleaned with just a damp sponge or soft cloth, and a little dish soap will take off most surface dirt. Be sure to rinse well as any residual soap will just collect dust. Any common household cleaner like Fantastik or 409 will also do the trick, but avoid ammonia based products. Dry the surface well and don't leave water in the cracks or holes, especially in warmer climates, or you might develop mold or mildew. Ugh! If that happens, you can remove it with a mild solution of a little white vinegar in warm water.
Got something tougher to take off, like crayon? Again, any common household cleaner that removes grease or wax will do the trick, and rubbing alcohol works well on some things. In the shop where we make your closets we often use acetone, which also happens to be a common ingredient in most nail polish remover! For really tough problems we use lacquer thinner, but it can darken the lighter color melamines over time, so that's just a last resort.
Under no circumstances should you use an abrasive like a Brillo pad or dry powdered cleanser. These will scratch the surface. For painted or stained wood finishes, treat them like fine furniture. In other words, unless you are certain whether and how the finish has been sealed, avoid water-based cleaners and products with paste wax, oil or silicone. The residue attracts dust and the build-up is difficult to remove. Instead try a cream based cleaner such as those from Guardsman.
If grease has built up, which can easily happen in a pantry, try a fast wipe with mineral spirits. You just wipe it on and off, and don't let it sit on the wood for any length of time. Try this first in an inconspicuous area to be certain it won't react with the finish.
Keep your shelving and closet system clean, and your clothing will stay cleaner!
Learn how to be a great Closet Organizer. Find out how you can save money, time and space by downloading your own Personal Closet Inventory Worksheet. Browse our project gallery for some inspiring ideas.