April Web Promo: Define your Style with a Free Accent Color on All Orders
April showers bring May flowers and a free color upgrade when you purchase a custom closet in April*
Spring is just getting started, as is our headlong dash into spring cleaning and organizing. This annual charge of the spring cleaning brigade is often peppered with the best of intentions and loftiest goals that are generally nowhere in sight by the end of the April. You've started with your closet, determined to organize by clothing color, season, length and type to let your wardrobe personality shine through.
Eventually, everything falls back into disarray and will stay that way until next spring. This year you have decided to end the vicious cycle of disorganization and put in a custom closet that reflects your personal style and clothing choices.
You have chosen the materials, the amount of hanging space, how many drawers you want, the handles and the final missing piece that is needed to unify your closet and tie it in with the rest of your home is the accent color.
If you went with a white or light colored material finish maybe you want to add a little drama and flair to your closet by accenting it with high contrast dark stain.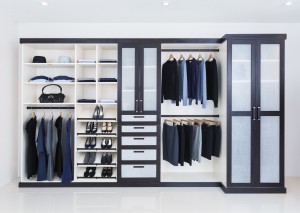 Maybe modern minimalism is more your style and you want to keep it sleek with a modern metallic silver accent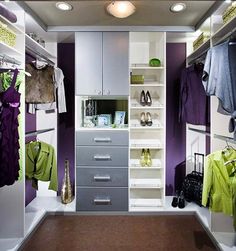 Perhaps you prefer to keep your style a classic white-on-white. The accent color choices abound and depend entirely on how you want to present your style.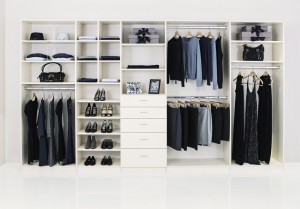 With our April web promotion, the accent color depends entirely on you and what you are in the mood for.
Already have your accent color in mind? Call us for a free in-home design consultation.
*Cannot be combined with other offers, must be presented at point of purchase and available at participating locations.