8 Great Ideas to Help You Store Your Evening Wear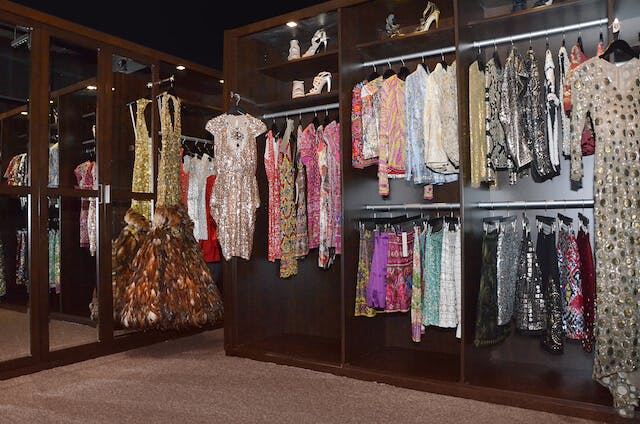 There's plenty of information about how to store a wedding gown, but what about the other beautiful clothing in your life? Your dressy clothes deserve just as much attention and care. When it comes to storing special occasion wear, the process is similar to preserving a wedding dress, and the four most important words in wardrobe organization and clothing storage solutions are:
Clean: First, have the garment professionally cleaned. Do not store garments that have not been cleaned or any stains will become permanent.
Cool: Store your special clothes in a cool place where they won't be exposed to humidity or heat.
Dark: Sunlight is not your clothing's best friend. Intense light will cause colors to fade and even damage delicate fabrics, so keep your clothes away from light.
Dry: Dampness promotes mold and mildew, so make sure you store your special wear in a dry area.
Depending on your closet system and space, decide between box or hanger storage. If you have a closet system that accommodates long-hanging garments, then you can hang long dresses or suits. If you don't have the space, then choose box storage where you can lay several garments on top of each other, but make sure you have space to put the box, and that you have plenty of acid-free tissue paper which helps to keep fabric from turning yellow.
Here are the some of the ways you can store your occasion wear:
HANGER STORAGE
The advantage of hanging a garment is to prevent difficult-to-remove creases. Invest in a good quality hanger that will hold up the weight of the dress – especially if the dress has beads or other adornments. Line the hanger with tissue paper and hang the dress up using any garment straps for extra support. That's what those annoying long straps are for!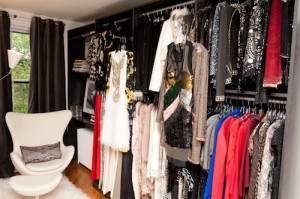 If there is any beading on the dress, cover or wrap it in tissue paper to protect it. Stuff tissue into the bodice, sleeves and any deep folds in the fabric to help keep the shape of the dress. Store the dress in a garment bag made of cloth such as unbleached, un-dyed muslin so that it can breathe. Do not use plastic for long-term storage.
BOX STORAGE
Use an acid-free, sturdy cardboard storage box or sweater bag, and line it with tissue paper. For dresses, especially heavily beaded gowns, lay the hem in the box first, then fold the dress. If the dress is very long, lay it down accordion-style with tissue paper between each fold. Make sure you wrap each garment like this and lay them one on top of another in the box.
SUIT STORAGE
For men and women, suits should be hung on a quality wooden suit hanger that has a shape to the shoulder and arches forward slightly to support and maintain the shape of the suit jacket's shoulders. For pants, you can either hang them on felted clamp hangers to keep them smooth or fold them over using the "Saville Row fold," developed by famous London suit tailors. Take the pants by the legs and fold one through the hanger until the hem reaches the crotch the fold the second leg similarly over the first.
Suits need circulating air, so don't jam several suits into one garment bag. Use either a canvas or cloth garment bag, which is good for both cotton or wool fabrics. To keep moths away, store your suits with cedar blocks. The best way to store wool suits and other woolens is in a custom made cedar closet to insure they are completely protected.
DRESS SHOES
Ideally, you would store your dress shoes in a custom-made shoe rack separate from your everyday shoes. Shoe racks make it easy to organize shoes in a closet and help keep them in good condition. Another storage solution for special occasion shoes is to keep them in boxes stuffed with tissue paper to help maintain the shape along with silica gel that comes with new shoes. Remember to save these the next time you buy shoes or you can buy silica gel at a craft store.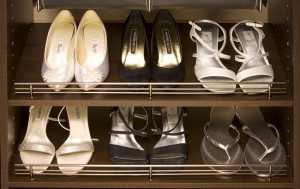 Don't store suede and leather shoes in plastic since they need to breathe while in storage. Plastic causes mold or discoloring, so wrap suede and leather shoes in acid-free tissue before storing. If you don't have space for boxes, store the shoes in separate cloth bags in one larger box, so you can keep them all together. Label the outside of the box or bag so you know what's inside. As with clothes, make sure the shoes are as clean as possible before putting them in storage.