7 Priorities for New Homebuyers
In recent surveys on what features homebuyers look for when shopping for a home, walk-in closets and various storage spaces made both lists as priorities. What these surveys also found is that the profile of today's homebuyers has changed. Many homebuyers these days are younger than previous generations of real estate shoppers and they've evolved from married couples looking for a starter home to single women, gay couples and technology driven professionals.
Due to the changing population, many homebuyers these days are extremely tech savvy since they grew up with the Internet and smartphones. Not only do they use the web to search for a house, but according to a survey by Better Homes & Gardens Real Estate, 77% of Gen X and Gen Y homebuyers said they wanted technological features built into the house itself. Other top priorities included personal spaces and home offices. In their "What Home Buyers Really Want" report, the National Association of Home Builders' (NAB) discovered that 80% to 90% of prospective buyers also wanted garage storage, pantries and laundry rooms.
Here are 7 features that homebuyers listed on their must have lists:
1) Wired and Smart
The hottest new feature in real estate is home automation systems where technology is rampant throughout the house. People want to be able to remotely unlock doors to let their kids in from school, automatically control the temperature setting or monitor the family pet or babysitter via webcams. Since technology is only going to become more ingrained in our lives, smart homes will become more and more in demand as technology evolves and improves.
2) Carrie Bradshaw Closets
Shoeaholic Carrie Bradshaw from the 2008 movie Sex and the City wanted a walk-in closet more than a diamond ring when Mr. Big proposed. She echoes the sentiment of many women and men who now list walk-in closets on their buyers' wish list. Closets have always been a coveted feature, but some homeowners are even willing to forego a bedroom and change it into a custom walk-in closet system.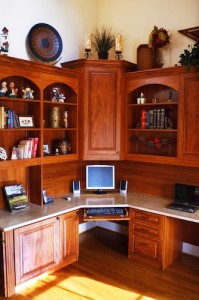 3) Home Offices
Because telecommuting has become popular and technology enables people to always be connected, home offices are increasing in demand. Nowadays, people don't just want a desk tucked in a corner, they want a place dedicated to their laptops, printers and work-related needs. A custom home office with built-in desks, shelving and cabinets not only increase a home's appeal but a dedicated office space is also better for tax purposes. Even if the homeowners don't work from home, they appreciate a place where they can do homework with the kids or work on household expenses.
4) Man or Woman Cave
Personalized spaces, whether it's a dressing room for a woman or a media room for a man, have become a recent trend in real estate marketing because more and more people want a personal oasis in their home. Instead of the formal dining room their parents prized, today's homebuyers prefer high-tech rooms with large-screen TV's, surround-sound and up-to-date gadgets. For those who have extra rooms or a basement, they are converting them into a specialized room devoted to crafts, relaxation or exercise.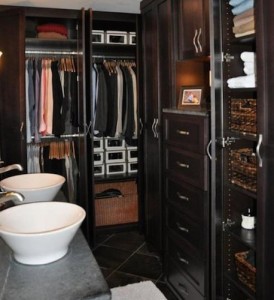 5) Separate Laundry Room
In the NAB survey, 57% of homebuyers said they wouldn't buy a house without a laundry area and 93% said they wanted a laundry room separate from the rest of the house. Clearly, many potential buyers feel very strongly about a dedicated laundry room. Reason being; it helps to keep the mess of this chore away from the rest of their living space.
6) Garage Storage Space
Buyers always want lots of garage storage space. From a family who needs to store their kids' playthings to singles that want to store their weekend toys; a garage that's large enough to house vehicles in addition to having bonus space for storage is in high demand. This is especially the case if it has built in cabinetry to organize and store tools, seasonal items and sporting equipment. Furthermore, an ongoing trend with homeowners is transforming parts of a garage into a man cave especially if all the bedrooms are being used.
7) A Walk-in Pantry
People are always in the market for additional kitchen storage, so walk-in pantries with built-in pantry organizers – to store food items and keep kitchens clutter free – are in great demand. Potential buyers look for pantry storage systems with adjustable built-in shelving, plenty of counter space and storage hooks for cleaning supplies. Built-in wine storage units with wine racks are also seen as bonus items.
Clearly, no matter what generation of the homebuyer, storage space and large closets have always been in great demand and that trend continues today Investing in a custom closet is one way to not only organize and increase your current storage capabilities, but when the time comes, it is also a home feature that will be attractive to potential buyers for years to come.