5 Great Ideas for Your Empty Nest
Besides being a great title, My Nest Isn't Empty, It Just Has More Closet Space by author Lisa Scottoline, those words are the sentiment that many empty nesters feel when their children are grown and out of the house. Some parents won't touch their kids' bedrooms when their children go away to college, because their kids will be coming home from time to time. But, for those whose children are on their own, they have a plethora uses to choose from for those empty bedrooms. When faced with an empty nest, many choose to use this time for home improvement projects designed not only for comfort but to increase their home's value, too.
Here are five great ideas for your newfound space that guarantee to add to your home's value:
1 – Guest Suite
Creating a guest room is a priority for many empty nesters because they want their kids to have place to stay when visiting. But, your adult children no longer need to have their teenage posters and childhood toys around, so it's fine for parents to convert and redecorate bedrooms into multiple guest rooms for visitors. Some people are even knocking down walls to make rooms bigger or remodel a bathroom to create a guest suite to provide visitors the utmost in comfort. For those who want to have guest facilities but don't have much room, installing a wall bed is the best way to transform your space into a double-duty flex-room. .
2 – Walk-In Closet
This trend is becoming more and more popular for people who want to remodel a small room. For spaces that are not large enough to be a comfortable guest room, people are transforming them into luxurious walk-in closets with custom closet systems and other design elements to create a personalized living space. Women are adding vanities and a seating area, so they have a special place to unwind. Men are installing a TV or a recharging station and some even install wine refrigerators or humidors to keep their collections close by.
3 – Home Office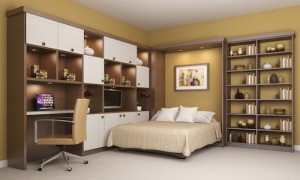 For many people, their jobs allow them to work from home. This is especially the case if those people are in senior positions, which many empty nesters are. Therefore, many are creating a full-blown home office in an empty room – custom-built with cabinetry, shelves, and workstations, so they can be comfortable and efficient while working from home. Another reason for home offices; people at this stage of their lives often start new businesses, which they run out of their home, so a home office is not only a practical choice, it's a necessary one.
4 – Specialty Rooms
Depending on where an extra room is located, people are turning them into specialty areas. Rooms that are located near the kitchen or entryways can easily be converted into a pantry, laundry room or mudroom. To create these rooms, all it takes is installing custom shelving and cabinets configured to people's exact needs. Using custom-built systems also provides people with extra storage solutions and helps them organize their things.
5 – Hobby Room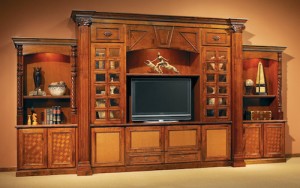 Now that they have the space, more and more empty nesters are recognizing that they should use it for the things they enjoy. Some are turning extra rooms into hobby rooms like home entertainment centers or a wine cellars. Using custom-made bookshelves and cabinets, it's easy to transform any space into a media room where you can store your books, large volumes of video and audio equipment, and their accessories. Or, create a wine cellar by installing wine racks, a custom-made bar area and other wine storage accessories.