4 Quick Tips for Storing Wine
Whether you're a novice wine connoisseur or a veteran who has gone to tasting at the greatest vineyards of France and Italy, there are special rules about how to store wine in your custom wine cellar. You know, in order for those bottles to stay good and age correctly for the next twenty years (or at least until Bob and Diane's housewarming party next week). Not to worry, though. Here at Closet Factory, we have you covered with four quick tips on storing your wine properly.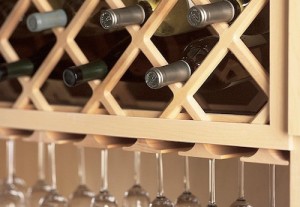 The first thing to worry about with your burgeoning collection of wine is temperature. Storing your wine above 70 degrees Fahrenheit will age it rapidly and cause a breakdown in the aromas and flavors that make the wine drinking experience so pleasant. Be careful that you don't store it anywhere where it will get too cold, either. Anywhere below 45 degrees and you risk drying out the corks, causing bits of cork to float into your wine. If it gets cold enough to freeze, the liquid might expand enough to push the cork out of the bottle not to mention ruining the taste of the wine.
Conventional wisdom says to keep white wines a few degrees cooler than their red cousins, however, this is only an issue for serving and not for your wine cellar. Store them both at the same temperature and then chill the whites just before serving. It is also best to avoid storing your wine in any location that has a lot of variation in temperature in it as this may also ruin the flavor and cause cork seepage.
Humidity is another important factor to take into account when looking at wine storage options. Ideally the area where the wine is kept should be between 50% and 80% humidity. Any drier and you risk drying out the cork. Any more humid and you start risking mold growth that may ruin the labels of the wine.
Any corked wine bottles should be stored on their side at an angle of 90 degrees or lower. A wine rack should easily accommodate this. Keeping wine on its side like this keeps liquid against the cork constantly, stopping it from drying out and flaking off into the wine.
Finally, if you're ever unsure if your wine is surviving and thriving in the conditions you're storing it, there are two quick ways the wine will tell you.
1 – When you open a bottle, always check the cork. If the cork is damp and (in the case of red and rose wines) tinted, you know it has been stored correctly.
2 – The next test is the taste test. If the wine has been stored in a place that is too hot or too cold, you'll be able to tell from the first sip. It will taste flat, smell odd, and possibly have a bitter tinge to it.