4 Personality Traits of the Disorganized
Maybe you leave dishes in the sink day after day. Perhaps your clothes are haphazardly strewn about, evidence of Thursday's dinner date. You might exhibit more of a contained chaos – stacked bins filled to the brim with odds and ends. Or it's possible your clutter manifests, instead, in a mental presence; everyday stresses only kept at bay by obsessive organizing. Whatever it may be, we all have a clutter style and Closet Factory has the solution.
1 – The Hoarder
The most serious clutter offense comes in the form of the hoarder. And while the A&E variety is a rare species, there are plenty of people who suffer from separation anxiety. If you still have your son's baby clothes on his first day of kindergarten, or can't bring yourself to part with the sequined monstrosity you wore to junior prom, this is you.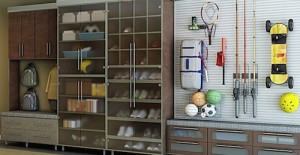 But don't fret; all you need is a new organization scheme and some self-restraint. Force yourself to part with things that you don't absolutely need, and invest in extra storage in the garage. The space will leave you no excuse to tolerate excess clutter. Make sure to leave enough storage room for future purchases, and cycle through the roster.
2 – The Procrastinator
The procrastinator is equally as messy, though less likely to spiral. Well-intentioned, this person is always waiting for tomorrow, or the day after, or the week after that. But tomorrow guarantees no more time or energy than today, and thus the procrastinator is stuck with a prolonged mess and constant headache.
The power of habit can prevail, though, and with a few tweaks the mess will subside as cleanliness becomes the norm. If you can do one thing every day, whether you make the bed or put away your pajamas, you can gradually pave the road to tidy habits. What starts with sheer force will morph into perfunctory routine. Cleanliness begets cleanliness.
3 – The Victim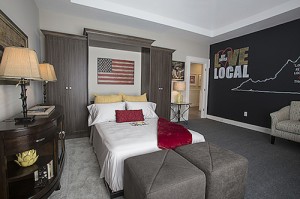 The small-space settler is a different kind of clutter fiend. Prisoner to square footage, it seems there is never enough room, and so you forfeit any dreams of organization. You don't need to get more space, though, simply more creative to make up for what you lack. A good rule of thumb for tiny homes – utilize vertical space. Hang pots on the wall and make sure your closet reaches all the way to the ceiling. A Murphy bed will free up room for other necessities, and a custom closet will make the most of your limited floor space.
4 – Clutter on the Brain
And for all those clutter-minded folk, we can only do so much. While we have few solutions to quiet your thoughts, an organized home will eliminate at least one internal dialogue. Check out our blog post on the psychology of clutter to delve deeper, and book a closet design consultation today.