4 Must Have Accessories for Your Walk-In Closet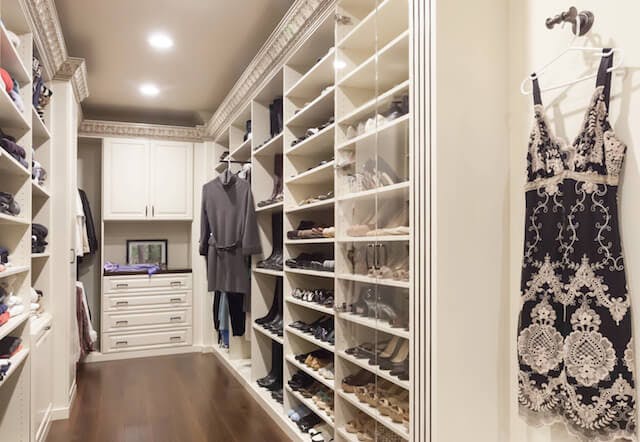 Once you have decided to install a custom closet, like any good outfit, it is in desperate need of accessorizing. Your beautiful gowns and sparkly skirts are nothing without an equally stylish dressing room to match. Organization is achieved through the building blocks, but the fashion-component of your closet lies solely in the accessories. So, I'm going to break down the top-4 essentials for a truly awe-inspiring boudoir.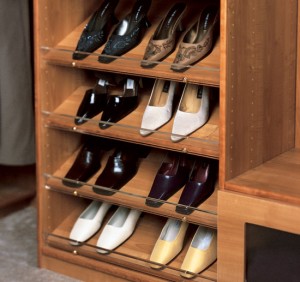 One of the most important features of any woman's wardrobe is her shoe collection. Akin to modern art, we want our shoe collection to shine, literally, and boast of our excellent taste. So what is more crucial than displaying them correctly, in slanted shoe-shelves? At Closet Factory, we have three choices of toe-stops, all of which communicate a unique aesthetic. Lucite toe-stops scream glamour, and will match the chandelier that you plan on installing, while the solid toe-stops conjure a more utilitarian feel. The chrome exudes an industrial vibe, but most importantly, they all keep your shoes safe and in plain sight so as to aid your morning robing process.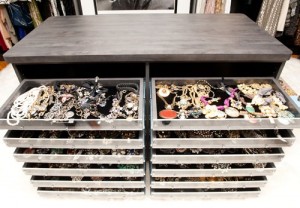 Jewelry drawer inserts are an absolute must in any fashionista's closet. Featuring plush velvet and an array of colors, you will feel like you're going to the department store – albeit in your pajamas – every morning. The ultimate tool to keep your precious stones and chains organized, necklace knots can be a thing of the past.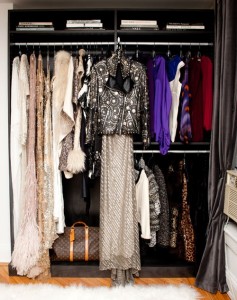 A valet rod is another nifty trinket that can add an element of glamour to your closet. Retractable and available in various metals, the valet rod adds an extra hook to your closet to hang dry-cleaning or towels temporarily. Even better, with this tool you can preemptively plan your outfit by hanging it on the rod for a simplified morning routine. It is an added bonus that it is long enough to store various options, for those of us indecisive types.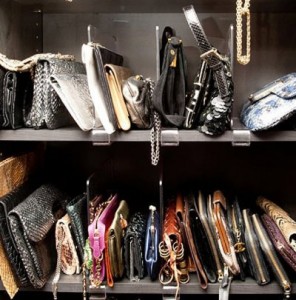 Clip on shelf dividers are the perfect solution for any modern-day bag lady. These provide the necessary structure to stack and store clutches and evening bags to your heart's content. And scarf racks, like valet rods, are retractable and endlessly useful. A scarf rack will save you the trouble of a scarf basket, and give you an easy and painless way to organize your pashminas.