3 Must-Haves for a Stunning Wine Room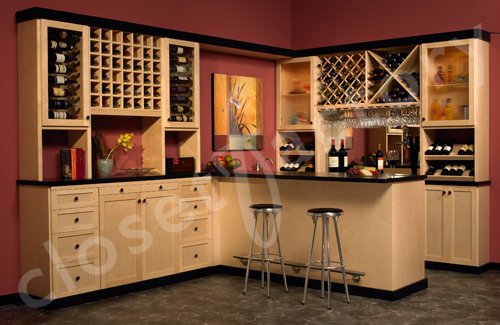 Don't you just love those fabulous wine displays at your favorite bars and restaurants? Well the good news is that you can build one in your own home! The best part is that you can custom design your own wine room to include all the amazing elements you find at restaurants; individual storage racks, wine refrigerators, mesh cabinets, functional counter tops, bar stools and my personal favorite the hanging wine glass racks.
Adding your own wine room or tasting room gives you an elegant place to enjoy a glass while relaxing with friends and family.
Closet Factory designer Amy Livesay from our Portland location had the opportunity to transform a spare room into a gorgeous wine room for her clients. They wanted to create a special space that allowed them to not only display their wine collection but also be able to site and enjoy a nice bottle while relaxing with friends.
Amy worked closely with the client to ensure the three must have elements were integrated into their wine room.
The Wine Table
A wine table is the focal point of the room and is best designed at 36" don't forget to include some bar stools. This height allows you to comfortably sit or stand while sipping on your favorite wine and enjoying your company. Plus you can design the base support to allow for additional wine storage.
Stemware Storage & Counter Space
Be sure to include additional counter space for opening bottles, staging and pouring. Stem wear racks fit nicely under lattice wine racks or upper cabinets and a counter top underneath makes stating and pouring easy and efficient.
Bottle Storage
Since wine and champagne bottle come in different sizes it makes since to mix up the types of bottle storage. Wine collectors often want to showcase special bottles so they should have a separate space. Adding a variety of storage configurations allows for lots of flexibility and can be accomplished without altering the overall design.
Once your wine room is complete, be sure to stock up your shelves because it is sure to become the favorite space in the house for relaxing with friends and family.