3 Key Benefits of a Mud Room
Picture this: an entryway strewn with winter jackets and mismatched gloves. One rain boot stands alone, a dirty sock spilling over the top. A scarf has been thrown on a stool, its end fringes dipping into an umbrella's accidental puddle. Does this scene conjure nightmares? Or, does it sound all too familiar?
There are countless benefits of having a mud room, one of the most important being cleanliness. Mud, rain or snow – after braving the elements, the last thing we care to do is bring them inside. Whether you live in a colder climate, where winter boots bring with them unwelcome ice, or in warm weather where beach days are followed by an endless parade of sprinkling sand, a mudroom is a must. Consider the mudroom a buffer area, a transition from outside to inside. Shoes can be placed in cubbies before they track dirt, umbrellas can be put away, and jackets or beach bags hung. The outside comes off before you fully transition to the interior.
Secondly, and on a similar note, reinvigorated organization is a huge perk of installing a mud room. With the changing of seasons, wardrobes revolve accordingly, leaving an entire set of clothing and accessories homeless. Winter means gloves and hats enter the rotation, while summer sees an endless string of flip-flops. It is enough to make you want to throw in the towel. But what if you can just put that towel in its pre-assigned compartment?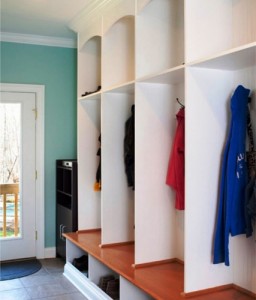 And finally, storage is key when constructing your entryway. Whether you have an entire room to devote, or simply a short hallway, we can work with you to maximize your space. If you lack closet space and don't know what to do with those pesky snow pants once ski season ends, we can install mudroom lockers or a long-hanging section. You can keep seasonal shoes and outerwear tucked away, moving it to the row of hooks when the temperature permits. A storage bench can also come in handy, creating a place to lace up your shoes while hiding the storage compartments that house picnic blankets and beach towels.
Overall, it is incomparably convenient to have a room to shed layers and keep shoes. We can even install a special place for keys, so you'll never have to go hunting for them again. Your custom mud room can cater to your lifestyle and keep you organized with every season.