3 Concerns When Buying a Custom Closet
Closet Factory has been in business over 25 years and we're experienced at resolving a customer's concerns. We've discovered there are generally three areas of concern for clients when considering whether to purchase a custom closet system for their home: organization, aesthetics and budget.
So, we thought we'd show you how we address those concerns.
1 – Organization
The challenge: Many clients contact us because they want to organize a space in their home. Some of the biggest challenges include never being able to find an article of clothing when they need it and a completely disorganized shoe collection. Other complaints are that they never have enough hanging space and it seems like all their clothing and accessories are scattered in different places.
The solution: When your clothing and shoes are not organized, it's very easy to feel like there is not enough space and you can't find what you need. One of the biggest advantages of a custom closet system is that a professional Closet Factory designer will evaluate your storage needs and collaborate with you to custom design a unit specifically to address those needs.
Your design will accommodate the size of your wardrobe, so you can easily organize hanging clothes. And, they can also include a section to arrange all of your shoes. Closet Factory also has a wide range of options and custom closet accessories like double hanging rods that will allow you to increase your available space. The storage solutions in our custom-built systems will help you organize your clothing and accessories together in one space, so everything is where you expect it to be.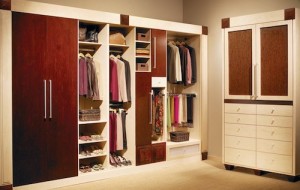 2 – Aesthetics
The challenge: Many clients are concerned with how they would like their custom closet to look and want a unit that fits the décor of their house. Some ask that their custom unit look like their existing furniture or match cabinets that they already have, while others have seen something they like in a magazine and want it replicated in their home.
The solution: Whether it is a specific color, a certain style of crown molding or a particular look, Closet Factory can usually fulfill our client's wishes in any aesthetic. Our professional designers can create the look or style you want and if you choose wood, we are one of the few companies that offers custom staining and paint. Another benefit of working with a custom company like Closet Factory is our large selection of finishes, colors and accessories, which enables us to recreate something you see or transform any vision you have into a reality.
3 – Budgetary
The challenge: When clients see how beautiful custom closets can be, they instantly become concerned because they have a limited budget and they don't believe that they will be able to afford everything they want.
The solution: With any space, there are so many options, colors, types of wood and styles and prices can vary greatly. Your closet designer can start with the basic structure and provide options, which means you are in control of the cost every step of the way. At Closet Factory, our designers are trained to work within any price range to develop your perfect dream closet, and it is always up to you as to how to proceed.
If you have a concern that we didn't address here, let us know!