How To Personalize A Custom Dressing Room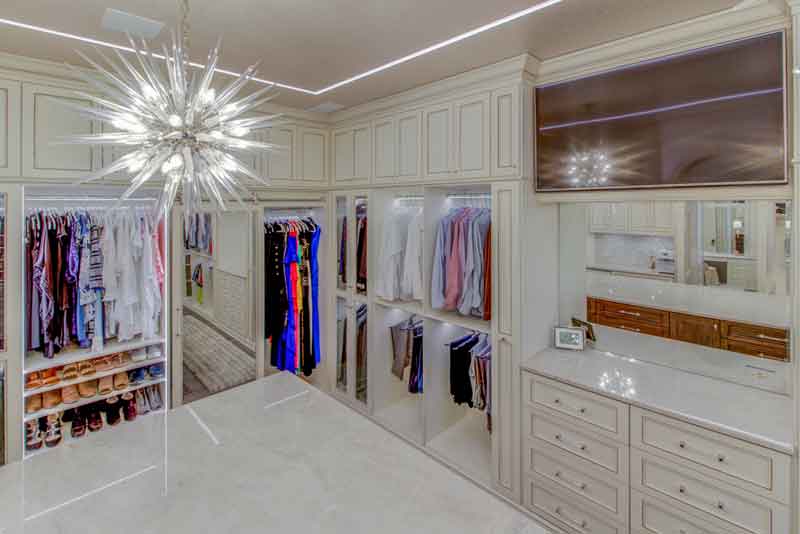 Designing a custom dressing room will dramatically improve the organization and beauty of any home. A custom dressing room is basically an entire area (either a single room or multiple rooms) that is designed to be a personal staging area for creating customized wardrobe ensembles. These special rooms can also serve as a personal sanctuary where daily stress is replaced with beauty and tranquility.
The most impressive custom dressing rooms always include five areas of customization:
Cabinetry
Lighting
Wall and Floor Covering
Seating
Personalization
1. Cabinetry
The cabinetry of a custom dressing room is what makes the space beautiful and elegant. Cabinetry surrounds hanging sections, drawers, and shelving areas. Dressing room cabinetry also involves decorative molding and drawer faces. Cabinetry is also the framework behind the organization design of the dressing room. For example, a center island can be a gorgeous piece of furniture that reiterates the room's motif while also being an amazing place to store jewelry, undergarments, sunglasses, and even priceless valuable.
Cabinetry finishes can be designed with matte, high gloss, solids, and even wood grains.  Some common wood species people use in custom dressing rooms include:
Cherry
Walnut
Maple
African mahogany
Some of the classic dressing room cabinetry styles include:
Neo Classical
Contemporary
French
Post Modern
Asian Influence
Urban
Shaker
2. Lighting
Custom lighting elements are what truly create the "sparkle" and "wow" factor inside a custom dressing room. Skillful use of lighting helps to take advantage of the size and shape of these large rooms by calling attention to specific clothing items or personal possessions.
Great custom dressing rooms incorporate ayers of lighting, so that the room is comfortable to the eyes from every vantage point while also correctly illuminating a variety of personal possessions. The best way to create layered lighting look is to focus on these lighting layers and in this order:
Ambient Lighting: Ambient lighting typically radiates from a focal point on the ceiling and provides a soft shower of light throughout the entire room. Many of the most elegant dressing rooms use elegant chandeliers for effective ambient lighting.
Task Lighting: Task lighting is really highlight lighting that allows you to see individual accessories or clothing items in calming light. Good task lighting will make the colors and textures of your cabinetry pop, and help differentiate colors of clothing while also giving a sense of drama and elegance. Examples of task lighting include hanging rods with built-in LED components, or even ribbon lights along the edges of shelves or at the cabinetry's base.
Accent Lighting: Accent lighting is one of the best ways to show off special clothing items and coveted accessories. The accent lighting layer creates drama and allure by shining directly at the items that need to be illuminated like artwork, jewelry, shoes, and sunglasses.
3. Wall and Floor Covering
Highlighting walls and floors is one of the best ways to add glamor to your custom dressing room. Designers emphasize these areas because the are the largest surface areas of most dressing rooms. These surfaces are also the first things most people see when they walk into a customized dressing room, making an instant statement.
Many people love to use hard wood floors inside their dressing rooms, especially when the floors are made from exotic or beautiful species of wood. The most common types of hardwood flooring include:
Walnut
Oak
Cherry
Mahogany
Bamboo
Birch
Maple
Alder
Ash
While hardwood floors really add a touch of elegance and beauty to any dressing room, they can also be a little cold especially in the early morning hours. So, another great design trick for dressing rooms is to add an area rug. Some of the most beautiful and popular rugs for dressing rooms include:
Traditional Rugs: Traditional rugs typically use flower or plant motifs and have borders that are colored in crimson, gold, and navy. These rugs originated in Persia and are typically made of wool, cotton, or silk.
Dhurries: Dhurries are a flat-woven rug, and they're generally very not very expensive. Dhurries typically feature geometric designs in many colors. They're typically made in India of cotton, wool, jute, or silk.
Kilims: Like floors, walls can also make a bold statement if accented correctly. These days, many top-of-the-line dressing rooms make a statement by using wallpaper. Stripes, geometric motifs, or dramatic floral prints are being used more and more in high-end dressing rooms.   Also, remember that wallpaper doesn't have to be relegated to walls alone. The ceiling can be an excellent place to add modern, decorative wallpaper. Using the ceiling as your accented "fifth wall" can create a great environment for a custom dressing room.
Overdyed Rugs: Overdyed rugs are designed with powerful and vivid colors. Some are made by taking vintage rugs and dying over the design in a richly saturated color. These rugs are bold, and very welcoming.
4. Seating Area
From New York to California, many people are creating custom dressing rooms that feel like private sanctuaries and boutique showrooms. One way to achieve this is by introducing a unique and personal seating area into your dressing room. Some of the best seating ideas for dressing rooms include:
Window Seat. People love to sit at a window seat and read a book or even watch the world go by as they contemplate their wardrobe for the coming day. Many window seats include custom cushions or custom padded seating.
The Simple Chair. The beauty of a simple chair is that it can be easily moved from spot to spot, and when placed on top of a throw rug, this simple sitting solution can actually define the spacee while also adding a sense of peace and calm to your closet. Add some accent pillows or toss a quilted cotton throw blanket over the back to add a little elegance.
Elegant Couch. Adding a couch or chaise lounge to your luxury dressing room will really create an immediate mark of elegance. Couches scream comfort, relaxation and softness at the highest level. In addition, couches add a real element of sophistication and luxury, while also being an eye-catching piece of furniture
5. Personalization
Creating a dressing room that is really a personal sanctuary means it must have a personality that is defined by its owner.  One way to make your custom dressing room more personalized is by introducing art or other decor that has meaning to you.There is no limit to the fun ways to make your custom dressing room more personal.Some great options for showcasing your personality include:
Hanging a print by your favorite artist
Displaying something from an exotic travel experience
Include a washer/dryer, television or mini bar!