Custom Closet Seating Ideas To Try
More and more people are searching for the perfect luxury custom closet. From New York to California, homeowners are investing a significant amount money, time, and energy into their custom closets to create rooms that feel like private sanctuaries and boutique showrooms. While luxury custom closets were once reserved for the Hollywood elite, professional athlete, or well-healed executive, today's luxury custom closet is becoming a staple for homeowners across the country.
Today's custom closet can include just about every type of convenience or amenity to bring luxury and elegance into the room. For example, today's custom closet can feature flat-screen TVs, washer and dryers, cappuccino machines, and even a fireplace. Some people like to add showroom lighting features and center islands that showcase jewelry, hats and handbags like a fine boutique. Other people add dramatic wallpaper and cozy rugs. However, one of the most impactful design elements that homeowners can include into their custom closets is a nice seating area.
Five Best Seating Ideas For Custom Closets
A seating area in your custom closet inserts more than just a pragmatic place to sit while you're putting on shoes or pulling on tights, it can add a fun design element as well.
Here are five specific seating ideas you can add into the mix of your custom closet sanctuary. Also, if you want other design ideas and tricks on how to create the perfect luxury custom closet, you can download Closet Factory's eBook "How To Create The Perfect Luxury Walk-In Closet" here.
Seating Idea #1: The Window Seat: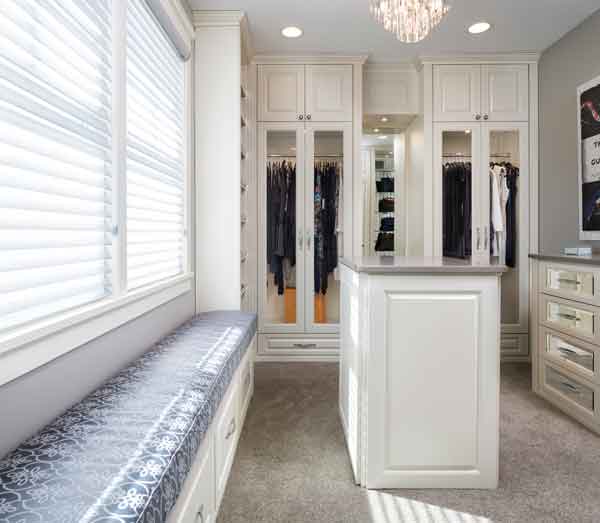 If you are lucky enough to have a window in your luxury custom closet, then adding a window seat is an excellent way to enhance the functionality of the closet while also creating something beautiful. People love to sit at a window seat and read a book or even watch the world go by as they contemplate their wardrobe for the coming day. Many window seats like this one, include custom cushions or custom padded seating. Also, by working with your custom closet designer, you can also create additional storage space underneath the window seat.
Seating Idea #2: The Simple Chair
One of the easiest ways to add elegance and comfort to your closet is to include a simple sitting chair as a clever amenity. The beauty of a chair is that it can be easily moved from spot to spot, and when placed on top of a throw rug, this simple sitting solution can actually define the space while also adding a sense of peace and calm to your closet. To round out the arrangement, accessorize the seating with some accent pillows or toss a quilted cotton throw blanket over the back to cozy up with a cup of tea in the morning.
Seating Idea #3: The Center Island Bench Seat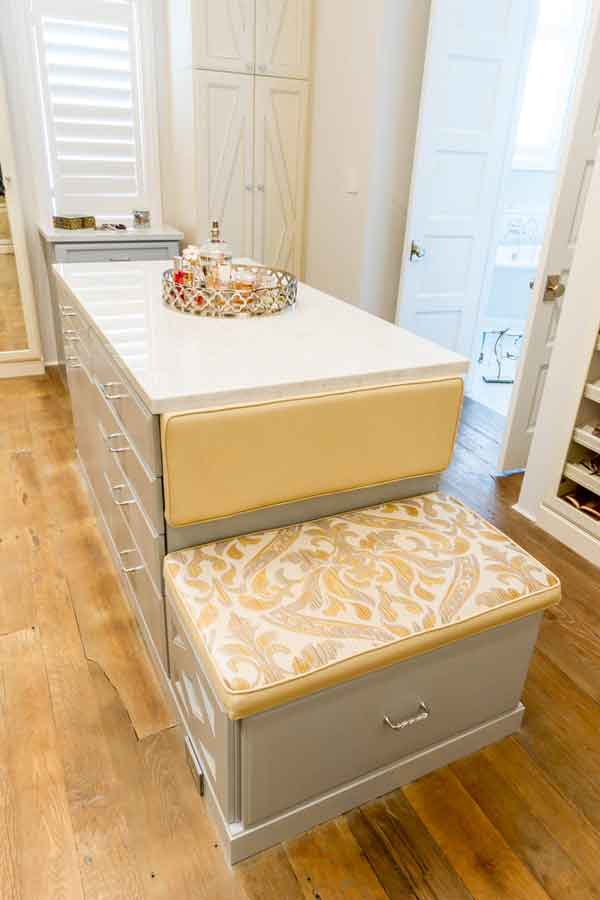 There is nothing better for your custom closet than a center island. The center island immediately says, "you are entering the land of luxury".  A center island also creates a beautiful place to store your fine garments, accessories, and even jewelry.  However, one of the cleverest ways to introduce seating into your custom closet is to add a bench along with your island. The bench can include beautiful fabric padding as this built-in bench seat that is lined with yellow and gray damask cushions. The fabric bench helps create another opportunity for illuminating the gray closet island. The bench seat creates a convenient place to rest, or to lay out your wardrobe for the day
Seating Idea #4: The Stylish Ottoman
There is no question about it, the ottoman can go a long way to add some elegant décor to any custom closet. In addition to adding extra seating, ottomans sometimes have an under-the-seat storage area. From small to oversized, ottomans are a hidden gem that can add a real sense of glamour to your closet space. space.  These unique seats also provide two additional design elements to your closet as well. First, the shape and geometric configurations ottomans can make create something fun and visually appealing. Think about forming a circle with four of them, or even create serpent-like shapes that can create a great conversational piece. Finally, ottomans can be a great way to accent color from your walls, artwork, or rugs. The ottoman can blend in with the adjacent furniture, or compliment your existing décor.
Seating Idea #5: The Elegant Couch
Adding a couch or chaise lounge to your luxury closet will really create an immediate mark of elegance. Couches inside custom closets just scream comfort, relaxation and softness at the highest level. In addition, couches add a real element of sophistication and luxury, while also being an eye-catching piece of furniture.
Get smart with your own custom closet–call us at (800) 838-7995 for a free design appointment today!
By Vincent Aviani