Build an Interchangeable Wardrobe With A Men's Closet Organizer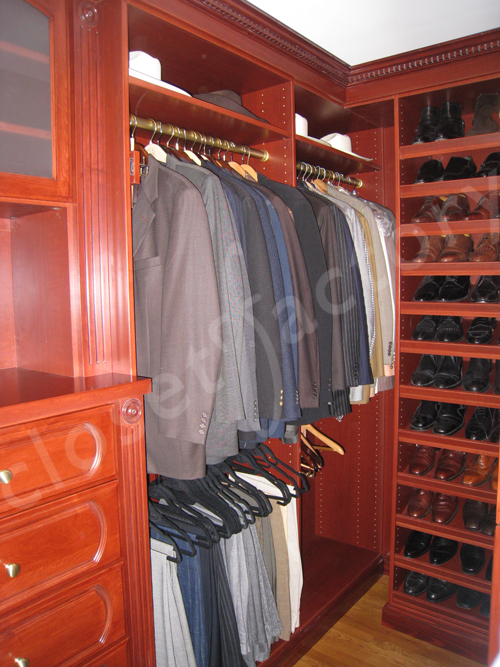 All Clothing Is Now Easy To Find In This Men's Walk In Closet Organizer
Some men, stylish or not, can have some difficulty arranging the right outfit without an organized wardrobe. The advantage of having a custom closet system is that you can instantly choose your outfit for the day quickly and efficiently since everything you need is just a glance away. I came across a great article about creating an interchangeable wardrobe by Antonio Centeno is President of ATailoredSuit.com and the founder of RealMenRealStyle.com. Here is what he had to say about the subject.
What makes Clothing Interchangeable?

Simply put, a man has an interchangeable wardrobe when each piece of clothing in his closet matches a large number of complementary items.

A light blue shirt that matches 7 out of your 9 pairs of slacks is interchangeable; that red dress shirt that only works well with 1 of your nine trousers is not.  A navy herringbone suit that can be worn with 13 out of your 15 dress shirts is interchangeable; the light grey and pink pin stripe suit that only looks sharp with 2 of the 15 is not.

Your wardrobe should be built on classic interchangeable pieces that go with at least 60% of their counterparts; a higher percentage of compatibility is always better.

WHY?  Look at the chart below – it's a numbers game.
In the above example we do assume 100% compatibility; however the number of items is very conservative.  Yet we can extract three hundred unique outfits from 20 clothing items. And I didn't even include ties, pocket squares, coats, vests, and accessories that could easily have increased this number ten-fold!

Source: Real Men Real Style "Build an Interchangeable Wardrobe" http://www.realmenrealstyle.com/mens-clothing-flexibility/
The article goes on to discuss that there are 3 advantages to having an interchangeable wardrobe that coincidentally is also in sync with the advantages of having a custom closet system:
Less Clothing in your Closet
Less Money Spent on Clothing
Less Time Spent Dressing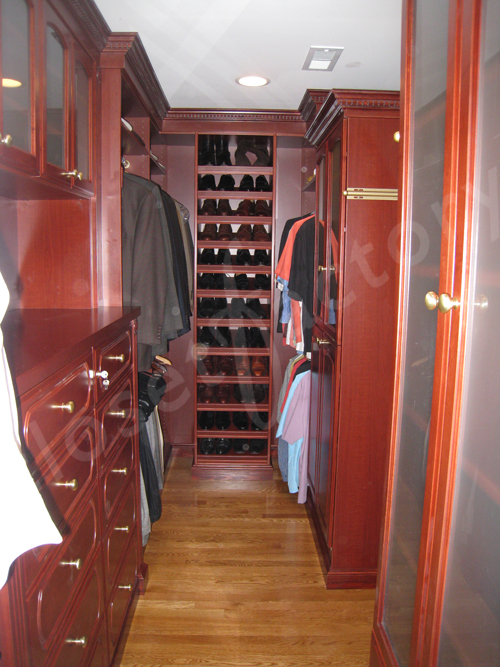 Steps to Build an Interchangeable Wardrobe by:
Inventory Your Closet Factory: Eliminate bad fit and poor quality – donate items and salvage pieces that still can be worn
Build a Core Wardrobe: Buy timeless clothing in style and not a fading fad or trend. You should also focus on the fit, fabric and style that work best on your body type.
Expand Core with Style Pieces: Expand beyond "needs and add "wants" meaning its OK to buy a few trend or fad items hear and there, but realize it will not be something to keep in your core wardrobe
All of the benefits of creating an interchangeable wardrobe can be accomplished by having "like items" such as jackets, tops, pants, ans shoes organized properly in a closet system. The men's walk in closet system pictured in this post was designed by Sue Pike of Closet Factory Richmond for a business man that is constantly on the go. You can see that this cherry wood closet has a more masculine feel, men often opt for a darker colored closet which fits their personal style. Here is what the designer had to say about this custom closet built for her client:
"This closet gives my client not only the organization that he needs to get ready each morning, but it gives him the space for dress and casual clothing, shoes, belts, ties and even hats. Getting ready in the morning should not be 'work' but a pleasure, and this organized closet system will help him start each work day with easy access to everything in his wardrobe." – Sue Pike, Sr. Design Consultant – Closet Factory Richmond
Prior to any closet installation we always suggest that the client weed out items to make room for the basics and then build upon the wardrobe from there.  Men's clothing is an investment; there is no point in keeping items you do not wear because of trends or are ill fitting.  Creating an interchangeable wardrobe is best accomplished by choosing clothing you WILL WEAR and not stumbling over items from the past that are just creating clutter. With a closet organizer a man is able to really mix and match garments he might not have noticed went well together in an unorganized closet space. You can check out more details on keeping cleaning out your closet so you can prepare for an interchangeable wardrobe in these following posts: