Designing Custom Closets Since 2000 for Columbia, Charleston, Myrtle Beach, Coastal South Carolina, Savannah GA, and Augusta GA
We've built hundreds of organization systems, and we are committed to better living through organization. We build closet systems, offices, pantries, laundry rooms, libraries, garages, wall beds, and odd-shaped spaces. In fact, we can design and make most anything that creates more organization in your home.
Closet Design & Install For 30+ Years
Our dedicated staff is seasoned professionals. Our production and installation team has over 30 years of combined experience in building and installing custom cabinetry. Our designers have multiple years of design, fashion, and interior decorating expertise. They continue to earn a well-deserved reputation as leaders in the custom organization industry.
Closet Company Near You
We strive to stay on top of industry trends and remain active in the business community. We are members of the Home Builders Association of Greater Columbia, the HBA Remodelers Council. We regularly exhibit at the Augusta Home and Garden Show, the Columbia Home and Garden Show, the Myrtle Beach Home Improvement Show, and the Charleston Home and Garden show.
Custom Organization Showroom and Factory
In 2017 we relocated our factory, right down the street from where we have operated for 15 years and doubled the size of our manufacturing plant to 10,000 square feet. We encourage you to visit our factory and showroom where we showcase a variety of our custom closet organization systems, as well as Murphy beds and organizers for nearly every space in your home. Visitors may also tour our factory floor and see firsthand, how every project is custom made by one of our talented woodworkers.
Hands-On Customer Service
We take a deep personal interest in every client, and we firmly believe in taking a hands-on approach to every project, from the initial meeting through to the installation. As the president and owner of the company, I work with our sales and production team to ensure that we continue to deliver the best possible product to our clients. Customer service is our top priority, and we go out of our way to make sure we get you organized but most importantly make you happy.
Call us today to schedule your free in-home design appointment and ask us about our available 100% Interest-Free Financing options!
Lander & Leigh Cason
Owner & President
Closet Factory Columbia, SC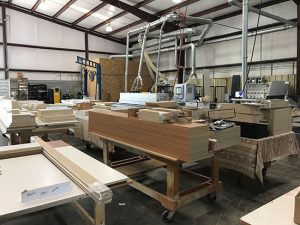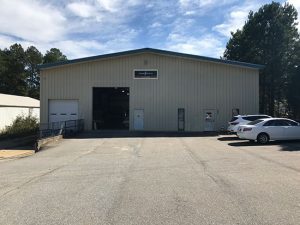 CLIENT TESTIMONIAL
"Closet Factory created four special closets for us. They designed the large Master walk-in closet, a linen closet and special closets in two additional rooms. Working with The Closet Factory was a true pleasure! Designer Beth was able to understand our storage needs and translated our requests into beautiful and highly functional designs. The installers were efficient and courteous. We LOVE our new closets and have maximized our storage capacity in these four closets. Thank you to The Closet Factory for such great work!"
– Joy V. via Angie's List
"Our closets were installed yesterday and Braydon Burgess did a wonderful job.  He is a very nice and polite young man who worked tirelessly to get us done in 1/2 the time we expected.  The product is great and your design was perfect.  Thank you again for a job well done.  Have a great day!"
-Martha Thill via Email
"I had another gentleman who was going to do some work for me and that whole thing fell apart. I was really disappointed so I wanted to go with a commercial company. We did some Google research and we selected Closet Factory because they could get in and get the work done the soonest. I had two other companies come to the house and they couldn't get it done soon enough. Closet Factory was able to come out right away, do an estimate and a consultation and then get me on the schedule. Even though it was 30 days, we got it done. They met my expectations and they were able to accomplish the things that we talked about.
We had a master bedroom closet done and the designer, Leanne, was wonderful. She was very friendly and personable, but still very professional at the same time. She really went above and beyond to make sure that she gave me the most that she could with the least amount of money. The closet was still expensive but she made sure that she stretched every dollar and maximized it. Also, the installation was a great experience. There were two gentlemen that came first thing in the morning and the lead installer was very young. He came with another gentleman who was much older than him and then a third person came. They said that it might be a one to two day job but they finished it in less than one full day. I was really surprised that they were able to get in and out that fast. They did a great job, and my closet has been very clean and organized ever since.
The manager then called to see if I was satisfied with everything. But Leanne personally called me as well just to follow up and see how everything was going. She called the day of the installation and then she called about three weeks later to make sure that I didn't need anything and that everything was still functioning the way that it was supposed to, just to see if I was still loving the closet. I've already told four people about Closet Factory and two of the four have already called to schedule a consultation. I showed them before and after pictures about how everything was in the closet and how unorganized it was."
-Chandra of Columbia via Email
"I received a Closet Factory advertisement in the mail. I called them and someone came out then gave a good presentation. The designer and I had good interactions and that was what sold me on having my project done with Closet Factory. She was honest and she alone pretty much sold the product. I also like the relationship I had with her. They did two closets, my whole master bedroom, and my spare bedroom closets without any problems at all. Overall, it was a great experience with them."
-Korey of Grovetown via Email
"My husband and I started using The Closet Factory 11 ½ years ago and are 100% satisfied with the product and service we've received on each job. Danielle is exceptional." 
-Violet of Columbia via Email
"My closet and pantry were installed yesterday and look fabulous! Thanks for all your design experience in helping make the best choices for our space."
-Jackie of Columbia via Email
"Bill, I am so glad you reached out to me for my comments on my experience with your company.  I cannot say enough good things about this experience!  I had an office setup done on a blank wall in our study and it was awesome!
I had been interviewing contractors for this job for 6 mos. before I filled out a request from Houzz.com about any projects I was interested in.  A few days later a young lady contacted me and said she was from The Closet Factory.  I told her I thought they only did closets.  Boy, was I wrong!  She was so professional and came to my home twice to make sure everything was perfect.  Her name is Danielle Trimnal.  I was completely blown away by the fact that she could show me a picture of the actual job on her computer and I could make all my selections from the comfort of my home!  
The installation was a breeze (I wasn't even home) and we only had a small glitch which your company fixed a few days later.  Danielle followed up with a call to make sure we were happy.  It was a rare experience for everyone to be on time and to do what they said they would do!  Hallelujah!  Thanks again!"
– Kay M. of Columbia, SC via Email
"I am a repeat customer with Closet Factory in a couple different homes and wanted to tell you that my most recent experience with Laurie Turner was wonderful, informative and fun!  Even though this is the first time I've ever met Laurie; we got along as if we'd been friends for years.  She immediately got my mojo without too much explanation. Thanks for having great people."
-Hannah of Columbia, SC via email
"We are delighted with our closet set up and in particular the relationship with Nance Southworth, who from our initial meeting through the entire process has shown nothing less than excellent service, expertise, patience and good manners.  She is a true professional and we enjoyed working with her."
-Bev and Armand Gandara
"Chuck and I also want you to know that we were very impressed with Leanne Carnes.  She was very professional, knowledgeable and very nice to work with on our project."
-Debbie Kegley
"Your guys were great. With the storm rolling in I was concerned that they might not get back to Columbia due to the rising Rivers. Thankfully they did. They were very professional and did a wonderful job. Thanks again for your help on this project. We definitely will be contacting you guys again!"
                                        -Jane
"I just want to say how pleased I am with the closet install on Friday. The installer John did a fantastic job! It looks great – It couldn't look any better. He was very careful getting materials in and out, and he cleaned up very carefully as well. I had used California Closets in my previous house, and I must say that the Closet Factory is way superior in their materials and installation. I will not hesitate to recommend Closet Factory to others!"
– Judy D