Organization is personal. What matters to one, may not matter to another. One of the key benefits of working with Closet Factory Washington DC is that we understand this.
Since 1996, our location has designed, manufactured and installed thousands of custom storage solutions. Our team of highly trained "space experts" know how to ask the right questions, and listen intently to your needs long before they utilize our state of the art drafting software to craft your ideal storage solution.
We are proud to have our work showcased on the popular television show Extreme Makeover – Home Edition, and featured in Home and Design Magazine. Our designs and their benefits are endorsed by on-air personality John Martin from MIX 107.3 FM.
Washington DC is our home and we believe highly in giving back to our community. We work with wounded veterans through the Gary Sinise Memorial Veterans Repair Corps program and the Homes for Our Troops organization. Through these organizations, we provide closets that are designed around the limitations of wounded veterans.
As an ongoing effort, we donate thousands of pounds of food to the Towson United Methodist Church Emergency Food Pantry for distribution to needy families and the elderly in the Baltimore area. Throughout the year we also collect unwanted shoes to donate to the local Soles4Souls charity. With the help of our clients and staff, our 2012 donation drive dropped off over 300 pairs of shoes for this cause.
Let us show you the Closet Factory DC and Baltimore difference. We want to earn your trust and confidence. Each of us is committed to your pleasure throughout every aspect of our process. To that end, our entire organization comes to work every day to make your experience with Closet Factory memorable.
Bruce & Kenna Devlin
Robin Curtis
Owners
Closet Factory Northern Virginia, Washington D.C. and Maryland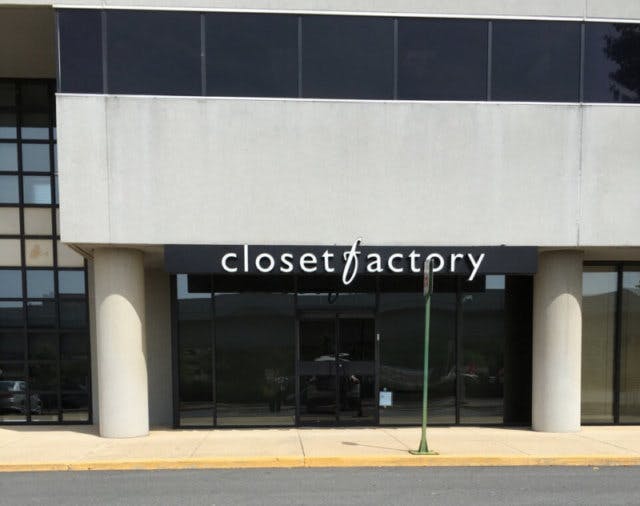 Showroom Hours:
Monday        10 AM – 7 PM
Tuesday       10 AM – 7 PM
Wednesday  10 AM – 7 PM
Thursday      10 AM – 7 PM
Friday           10 AM – 7 PM
Saturday       10 AM – 7 PM
Sunday         12 PM – 5 PM