Wine Rooms and Storage Design
If you have been keeping up to date with my more recent posts than you are thoroughly aware of my self proclaimed wine connoisseur status. Going hand and hand with my love of wine is my admiration for wine storage, wine cellars, wine closets and any custom wine unit for the home. The following images are some examples of how wine storage has been incorporated into interior design for the home in a functional and beautiful way.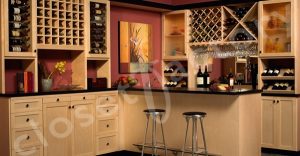 Artistic Wine Bar
I recently spoke with Kevin Urbany, Manager of Dealer & Design Services with Wine Master Cellars and he had this to share with from me from the Vice President about their company.  "Wine racks have looked the same for hundreds of years. The traditional design allows you to store bottles so the cork of the bottle stays moist, preserving the tight seal and protecting the wine inside from the degrading effects of air.  There's only one problem; once the bottle is stashed away, you can't see what it is…the label is hidden.  Starting in 2008, Closet Factory began offering the revolutionary VintageView Wine Storage System® which literally puts a twist on wine racks to resolve this issue.  With the bottles turned sideways so the labels face out, wine connoisseurs are finally able to see the artfully designed labels in their collections.  Perfectly suited for storage of just a few bottles on a kitchen wall to several thousand throughout a dedicated cellar or retail environment, this system can create a beautiful display of wine and properly store it at the same time.  Closet Factory branches from DC to Los Angeles have created cost effective, highly attractive wine displays that meet the contemporary design needs of today's sophisticated clients.  If you are looking for the perfect solution for your wine storage, look no further than VintageView to show you what you've been missing!"  – Mark Kenny, Vice President, Wine Master Cellars of Denver, CO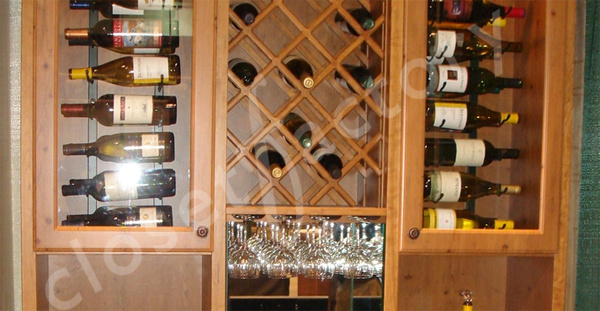 Dining Room Wine Display
*Although Closet Factory is an authorized vendor for the racking, Closet Factory does not install glass walls.