The White Choice In Custom Closets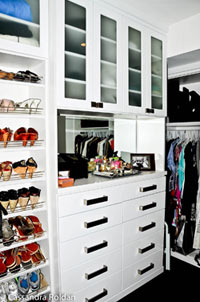 I can hear the silent conversation going on in my client's head now… "What color should I choose for my new closet? There are SO many luscious ones, but I can't decide! Should I choose a dark, trendy color like Espresso, or an elegant medium tone like that beautiful Arbor Myrtle? Or should I choose…?"
It's time for me to break in. "Have you considered white?" I ask. My client looks at me in horror. "But it's so…BORING!" "Ahhh," I respond. "Not always! It could be that white is right for YOU!"
Here's how to tell if WHITE is your best choice for your custom closet needs:
White visually expands the space – We all know how white makes an article of clothing look larger; it does the same for a closet.
Choosing white melamine can make the structure of your closet "melt away". This makes the contents of your closet (i.e. your clothes) the star of the show. Maybe you have a fantastic hat collection, or your colorful sweaters look great folded and lined up on adjustable shelves. SHOW THEM OFF!
White melamine can be the most cost-effective way to get your dream closet– Maybe you have your heart set on a handy valet rod, or that sleek double-deck, velvet-lined jewelry drawer that your designer showed you. Choosing white can make the whole project more affordable, so you can include the accessories that make your space SING!
To determine if white is the right choice for you, study your home's architectural details. Are your interior doors, baseboards, or crown moulding white? If so, you know that white will always enhance your home. Go ahead- pick white with the confidence of a seasoned closet professional!
Visit Closet Factory's "Expressions" section for the choice of styles, colors, products, layers, and organizational functionality to suit your custom closet needs. Browse our project gallery for some inspiring ideas. Receive a FREE custom closet design consultation and learn how you can get organized for the new year.