Six Reasons You Should Own A Murphy Bed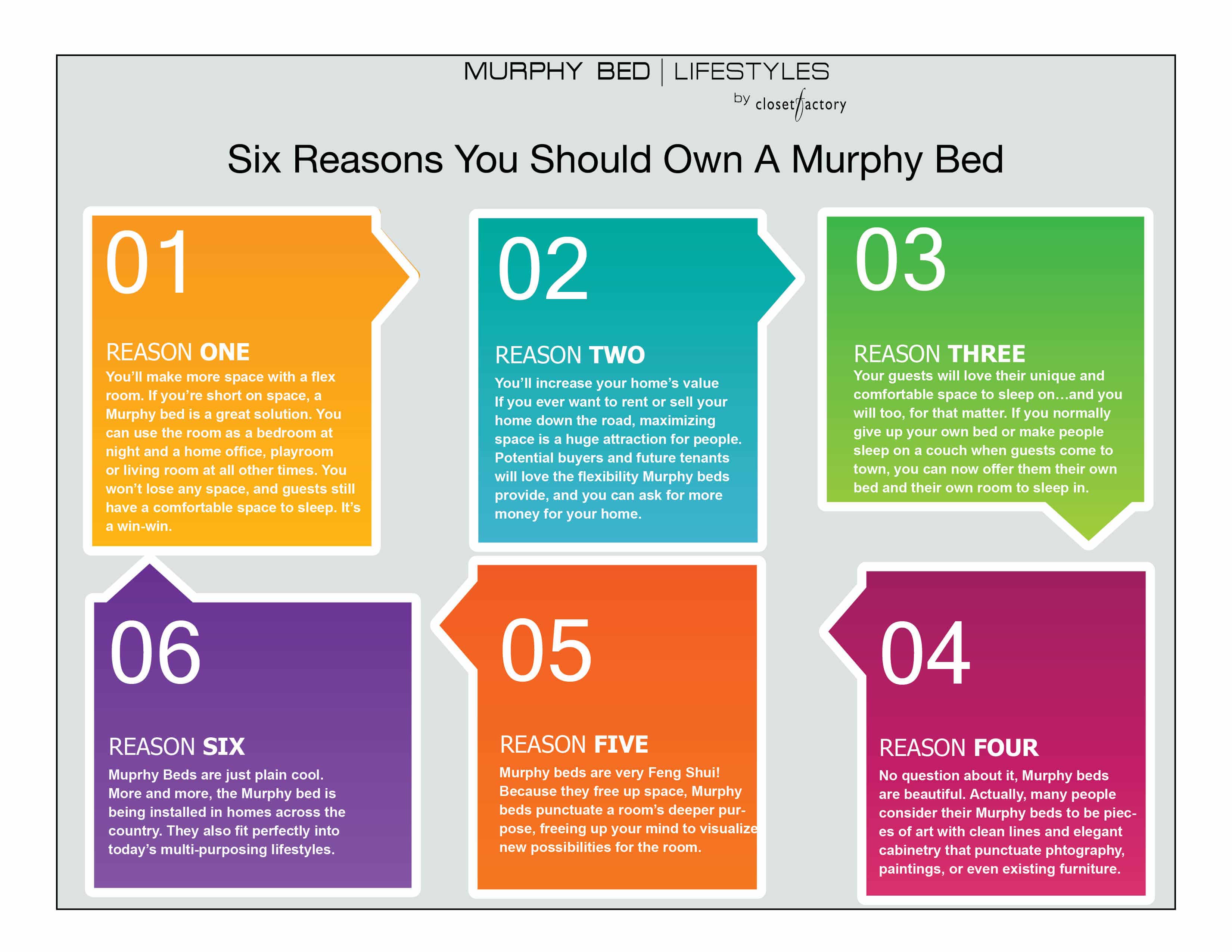 Here's a Murphy Bed Riddle:
What do guests expect, but are surprised to find? What was created a long time ago, but made today? And what works hard while others sleep? The answer of course, is a Murphy bed!
Never before have Murphy beds been more popular. Is it any wonder? The Murphy bed can be lifted and stored inside a wall for quick, convenient sleeping quarters. The Murphy bed is also housed in beautiful cabinetry, adding elegance, value and flexibility to any room of the house.
Right now, is the perfect opportunity for you to own your very own wall bed from Closet Factory's Murphy Bed Lifestyles.
The Most Flexible Bed In the World
For more than 30 years, Closet Factory has created customized, built-in storage solutions that enhance, reflect, and complement our client's diverse lifestyles while also providing comfort and beauty to their homes.  Our Murphy Bed Lifestyles line of built-in beds illustrates this mission to a T!
This bed design was originally designed to create sleeping space inside small quarters. However, today this bed is more than just a bed. It is one of the most flexible sleeping solutions in the world and is a distinct amenity for any home. They can be incorporated into any room of the house because it can fold up inside beautiful custom cabinetry that complement your home's décor. Transform a home office, living room, basement or entertainment theater into a customized flex room with a Murphy bed. It will provide beauty and slumber for years to come.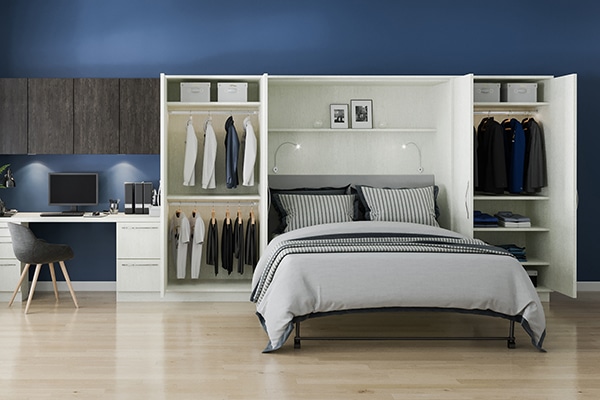 Style and Mechanics of the Closet Factory Murphy Bed an Every Day Bed
Closet Factory wall beds are amazingly versatile and multi-purpose bed systems that can be created any way you want in order to reflect your home's specific style, theme, and aesthetics. For example, our wall bed systems come in a variety of sizes including:
Twin
Twin Extra Long
Full
Full Extra Long
Queen
King
When it comes to the variables of style, Closet Factory provides the widest variety of Murphy bed finishes including custom painted cabinetry, melamine, or hardwood stained and finished cabinets to perfectly reflect your home's décor.
Like any sophisticated device with moving parts, the Murphy bed requires integrated mechanisms that ensure ease-of-use and safety. The bed works like an everyday use bed because of the quality of the integrated mechanics. Closet factory wall beds have the following common mechanical ingredients:
The frame is made from tubular steel that is welded together into a single piece, ensuring the frame's durability and reliability.
Integrated into the frame are the reverse bent, steamed slats that act like a built-in box spring. This box frame design perfectly accommodates with any standard, inner spring mattress, and provided the ultimate comfort.
Our hydraulic piston system allows the Murphy bed to be raised or lowered with a single finger, while also being able to stop the bed from raising or lowering at any point. Flat out, this is the safest and easiest to use wall bed on the market.
By Vincent Aviani