Shaker Cabinets and Other Kitchen Elements That Sell Homes
From 2014 to 2016, statistics from millions of for-sale listings indicate that homes with certain features sold quickly and for the most money — sometimes up to 15 percent more than the expected selling value and over two months faster.
What are these features you ask? Some of them include heated floors, subway tiles, frameless showers, and quartz countertops. However, just because these features are intriguing to buyers doesn't mean you should go and rip off your countertops in order to install quartz ones.
These features are, without a doubt, appealing but won't be the whole reason someone will want to purchase your house. You'll end up spending a lot of time and money just to upgrade a couple of components.
What you should aim for is making relatively low-cost updates to existing elements of your home, and one of the best places to start is in the kitchen.
What buyers really want in a kitchen
Having a well-designed kitchen greatly increases the value of any property, making it a great place to start investing your money.
Typically, the qualities that homebuyers look for in a kitchen include quality of cabinetry, symmetry of kitchen components, color, and layout.
Quality cabinetry includes incorporating sturdy long-lasting hinges and opting for custom units instead of pre-fabricated ones. An example of good use of color would be painting the kitchen white to make it feel bigger and allow homebuyers to see potential for different color combinations that suit their tastes.
Our eyes are drawn to symmetry and repetition, so keeping your kitchen cabinets simple and appealing in a uniform way is key. As for layout, maintain open spaces in your kitchen while making it a space where families can multi-task cooking, doing homework, socializing, and more.
Go with what's trending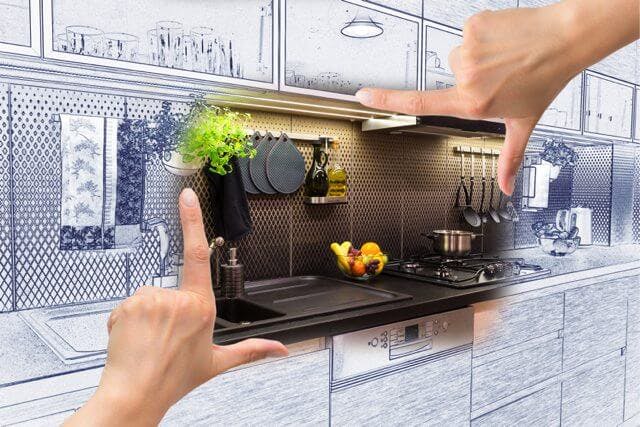 If you're unsure of how to design your kitchen to encompass the aforementioned qualities, a simple piece of advice is to use kitchen design elements that are trending. Of course, trends fluctuate with the times, but some design elements are evergreen. Here are a few.
Shaker style cabinets
Shaker style cabinets are highly sought after by people looking to buy a home. Shaker style cabinets create a light and clean look in a kitchen, are enduring and versatile, and can be adapted to fit in with both traditional and modern décor.
Customized drawers
Customized drawers allow for more space to store more things. Drawers that have useful features like holders for garbage bins, racks for canned goods, inserts for dishes/silverware/cutlery, and spacious concaves for pots and pans are attractive because they help maintain a clutter-free kitchen.
Colorful accents
For cabinet interiors that are glass-front or incredibly simplistic, add some bright bold wallpaper to give it some extra pop. Bold colors in small kitchens, in particular, have a high impact and are an excellent solution.
Embellishments
Many popular styles of today like to add some finishing touches to furniture and architecture, and kitchen components are no exception. Transform an unadorned cabinet with carvings, cutouts, and moldings. Add extras such as under counter corbels and arched openings to create something that blends in but also stands out.
Surprise features
Some features will leave a lasting impression on a potential homebuyer if they are surprising. In other words, if a homebuyer looks at a kitchen and discovers elements such as a pullout tray, bread box, and slide-out compartments to store tins and cookie sheets, they will be more impressed than if they were only to view a kitchen with a built-in spice rack as its only redeeming quality.
Show off your kitchen
Ultimately, if you're looking to sell your home, make sure to pay extra attention to your kitchen design. It'll pay off – literally!