Reasons To Buy A Closet System From Closet Factory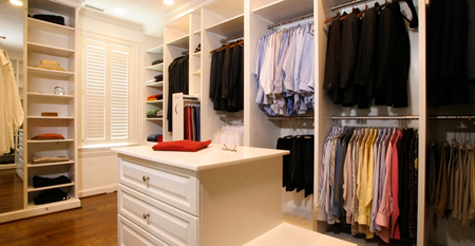 CLOSET SYSTEMS BUILT TO THE FLOOR LIKE FURNITURE
Full height units afford you more adjustable space from top to bottom. Also, the weight of our unit and your clothing is supported by your floor. You won't have to worry about your clothes falling off the wall!
Our units are easily removable – you can take them with you when you move.
LOCKING SHELVES AT THE TOP AND BOTTOM OF EVERY SECTION
Shelves and rods stay in place because our system remains square and plumb.
Our drawers and doors will operate smoothly for years to come.
YOUR NEEDS DRIVE OUR DESIGNS
Your unit remains flexible to suit your needs as the shelves and rods can be adjusted up or down in 1¼" increments
Our units are cut at our Waldorf, Maryland factory according to your needs.
In business for over 28 years.
No job is too unusual…entertainment centers, stained hardwood, home offices, mirrored doors…we can do it all.
ONLY THE BEST MATERIALS ARE GOOD ENOUGH FOR YOU!
To match or complement your home's decor, we carry an unlimited variety of colors and wood grain Thermofused melamine, high pressure laminates and stained and finished woods.
We use only ¾" Industrial Grade Korpine core for our melamines. This is the highest grade available.
We use the most advanced European hardware for connecting our shelves to the panels, for shelf supports, rod and rod holders
For the easy movement of your hangers, we use rods that are oval shaped. They are made from seamless steel and are chrome plated. Sleek and stylish as well as functional!
We use only ball bearing,100% full extension drawer slides. This guarantees a lifetime of easy opening for you!
You won't see any unsightly hinges because we use European designed, concealed, self-closing hinges. ASK ABOUT OUR SOFT CLOSE HINGES!
LIFETIME GUARANTEE
We offer a transferable, lifetime guarantee against defects in workmanship or materials.
Guaranteed by the owner of the location you purchased from.
OUR DESIGNERS WORK WITH YOU
Our designers are trained professionals who are experts at the efficient utilization of space in your home. They do not just give you an estimate. They are your representative to work with from the beginning of the design process to the day you are putting your clothes away in your closet. They are truly your organizational designer for life!
OUR INSTALLERS
We do not use subcontractors to install our work. Closet Factory installers are our employees and are well trained and supervised. They are expected to complete each job correctly; they are not given incentives to rush.
Many installations are completed in one day. The installers respect your home, pets and children and are careful to complete spotless cleanup when they are finished.
OUR CUSTOMER SERVICE REPRESENTATIVES
Our customer service representatives are available to help facilitate your job from the beginning to the end.
OUR CLOSET COMPANY
We are a growing international company awarded #1 closet franchise by Entrepreneur Magazine and #1 closet company by a national consumer-reporting magazine.
For your protection and peace of mind, we are fully licensed and insured.
Special thanks to Closet Factory Washington D.C. for this fantastic post!
To Request a FREE DESIGN CONSULTATION