How to Properly Hang Clothes in Your Closet
Hanging clothes in one's closet may seem like a no brainer, however, there's a difference between hanging up clothes – a feat unto itself for some people – and hanging up clothes properly.
Like Joan Crawford so famously once ordered, "No more wire hangers!" Sure, wire hangers come free with the dry cleaning and are useful when you lock yourself out of your car, but there are reasons fashion experts are against using them – and it's not just because Joan Crawford said so. Wire hangers have a thin and hard edge, which means it's easy for clothing to get stretched and creased. They're also not very sturdy, so clothes will easily fall off.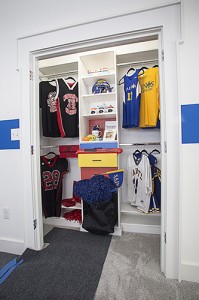 The first step in having an organized closet is to hang clothes the right way. Therefore, you need to use the right type of hanger for each specific type of clothing. Choose hangers that fit your specific wardrobe and use only padded, slimline or wooden hangers with metal hooks, which are easier to slide along a clothes rod.
Try to use the same type of hanger, which saves space and will enable your clothes to glide easily on the rod. When you get your clothing back from the cleaners, transfer them to the appropriate hangers and return the wire ones to your cleaners. You've invested in your wardrobe, so upgrade to sturdier options to protect your investment and maintain their longevity.
Here are five closet organization tips to help you hang your clothes properly:
1 – Skirts and Pants Skirt hangers are the most versatile to use because they can also be used to hang pants. However, pant hangers can't be used for skirts unless the skirt is folded, which then causes wrinkles.
Use skirt hangers with moveable clips to accommodate most sizes and styles. Pants and trousers can also be hung held by the cuff with clamping trouser hangers or in a custom closet system, you can use pullout pant racks made from chrome or wood to keep them pressed and organized. Casual pants and shorts can be folded or if you want to hang them, make sure you fold them in half along the crease so that the crease aligns on both legs.
2 – Ties and Belts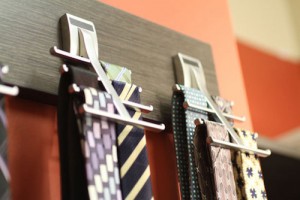 There are hanging belt organizers on the market that can also work for ties, but the best storage solutions for hanging ties and belts is to use a rack or a hook – especially if you have a large collection. A custom closet offers various types of unique accessories like pull out racks and specialty hooks for belts and ties to keep them organized and stored properly.
3- Hangers
The best hangers for all clothing but in particular, shirts and blouses are wooden hangers. "Hangers made from wood are very kind to all types of fabrics including knits and wool," says organization expert, Regina Leeds.
They are curved and follow the slope of the shoulders, which helps to sustain the fabric and shape. Button the second button from the top to prevent the shirt from falling or stick a felt circle on each side of the hanger for silks and delicates. For finer materials, use padding at the shoulders to prevent bumps.
If you don't have the space for wooden hangers or they're not in your budget, use a less expensive hanger for shirts that are more casual and reserve the wooden ones for your finer shirts.
4- Suits – The best hanger for both men and women are wide shoulder suit hangers with a pant bar. You cannot only hang the suit jacket and the matching pant, but you can also use these types of hangers for blazers and coats. These hangers support a jacket's shoulders and there's nothing better for heavy overcoats than this king of all hangers.
5- Sweaters and Folded – These are best folded and placed in drawers but if you have limited drawer space, you can fold a sweater in half – shoulder to shoulder – and drape it over the bar of a wooden hanger. Place a piece of tissue paper in between the sweater and hanger to prevent creases. Whatever you choose, don't hang your sweaters or people will get distracted when talking to you by the odd bump in your sweater's shoulder.