Murphy Bed Design Trends: Minimal Style

At Closet Factory, reducing clutter is what we do best, which is why our designers are so familiar with the minimal design trend for Murphy beds. As a custom home organization company, we strive to eliminate excess and streamline your lifestyle. And while interior design can set the mood of a house and make a space feel cozier, minimalism embraces the notion that only necessities should inhabit a living space.
Gaining popularity in the 80s in larger cities, such as London and New York, the heart of the minimalist movement lies in simplicity. The custom organization style aims to strip down interiors to incorporate only what is necessary, and create a calming space with blues and whites and other cool tones. The movement gathers inspiration from Asian and Zen design aesthetics, though is rooted more in design and functionality than serenity.
This simplistic trend is best executed in a house with great bones, as minimalism allows the architecture to shine. When employing a minimalist touch with a Murphy bed, the most important thing is to keep things unfussy. Keep décor, such as paintings and vases, to an absolute minimum, and stick with geometric shapes and clean lines. And because of the lack of adornments, allow your wall bed to really make a statement.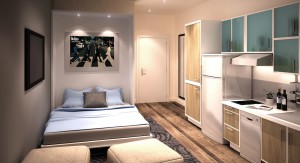 A Murphy bed is the perfect companion to a minimalist aficionado. Much of minimalism is finding and creating storage to eliminate clutter, and a custom wall bed is the smartest solution for any and all storage woes. Whether you want to test the minimal waters in your in-law suite, apartment or micro loft, we can help you maximize the space you have. And, because of Closet Factory's ability to customize, we can do to a minimalist space what many others cannot. For example, to create dynamism, many homeowners opt to cut shapes in drawers and shelving, such as scoop-front drawers and arced shelving. We can collaborate with you to design a wall bed to complement any look you'd like because we manufacture all of our pieces in house. And, our designers will work with you to decide how to spice up your unit.