Loft Storage Solution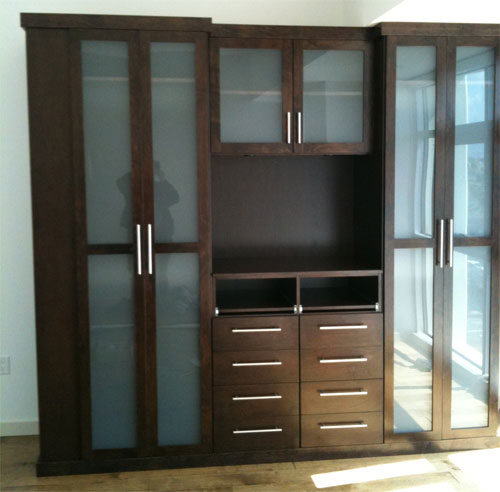 The last ten years has seen an extraordinary explosion of loft style buildings in Los Angeles and the surrounding beach cities. This is especially true in Downtown Los Angeles and Marina Del Rey as these areas are the target of luring people to city living. The buyer gets a lovely wide open space with four walls, high ceilings, big windows, a separate bathroom area and a strip of a kitchen. They move in all excited and then like a punch in the stomach the realization sets in. They ask themselves, "WHERE DO I PUT MY STUFF?"
That's where I and the Closet Factory come to the rescue. The most common solution is to divide an area for a sleeping and a living room. The best way to do this is to have a two sided wall unit. On the side that is facing into the bedroom area we would put a two foot deep, eight foot high closet with either frosted glass sliding doors or swing-out doors.  In the center we design a set of drawers with the bedroom T.V. sitting on top
of the drawers. Hanging and shelving goes on the left and the right
On the other side facing the living room area we would have the T.V. in the middle with drawers or a cabinet with doors below. Bookcases to the left and right look really sharp and can hold books, picture frames and pieces of art. I like to add lighting in these areas to make everything pop.  Many clients like cabinets below the shelves for additional storage.
The other alternative is to create a corner walk in closet in the bedroom area with frosted glass sliding doors. The walk in idea is a very popular addition for more closet space but extra area above the closet to store suitcases. Many people opt for lighting coming down from the storage shelf to illuminate the walk in interior.  I have added bookshelves or a small desk on the outside of the closet for even better use of space.
Lofts are so much fun because it is a wide open space like a blank canvas. All we have to do is be creative and really have some fun. We can design a pull-down bed, a place to store larger items like bikes and vacuums. There many more ways to make the loft experience a happy one. This is just one more way that the Closet Factory is your solution.
Receive a FREE custom closet design consultation from our expert Designers.  Download your very own Personal Closet Inventory Worksheet and learn how to maximize your space.