Is it time for shoe worship?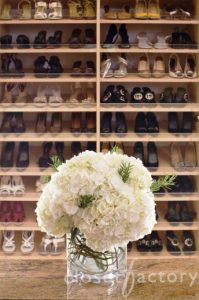 I love shoes. At 12 I was so excited about my patent leather Mary Jane 1.5 inch platforms that as soon I arrived home from the mall I instantly took them out of the bag and placed the pair neatly on top of the box. This must have been a funny sight since I was seated in a kneeling position intensely staring at my new shoes. My mother came in and jokingly said, "Is it time for shoe worship?" This phrase of worshiping shoes became a running joke in our household. Whenever I received a new pair of my trendy footsie desirables I would place them in eye view while completing homework, I would often find myself intensely gazing at them. Thus began my desire to preserve my foot jewels and kept them on a beautiful and functional display in my closet.
A custom closet dedicated to shoes and accessories is great way to proudly display all your trophy pieces. Jillian color codes her shoe wall because she centers her outfits around her shoes. I color-code my shoe wall so that each pair is easily found when dressing in a hurry. It also helps me to note which shoes need to be taken in for repair, put into storage, or replaced.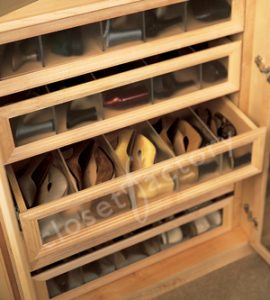 We invest so much money into our designer Christian Louboutin, Manolo Blahnik, Gucci, Prada, Jimmy Choo and Cole Haan shoes. Why not invest in a stylish shoe wall or shoe drawer for your collection? Having all of your favorite shoes on a pile in the corner of your closet can reduce the life of the shoe. Shoe boxes are good but can become cumbersome since cardboard tends to crunch when stacked. Protect your investments and honor the shoe gods! If you are interested in having a Closet Factory custom shoe closet of your own simply request a free design consultation! There are nationwide franchises to serve your home organization needs!
By: Nicole L. Tate