How to Transform Any Room Into a Wine Cellar
Enjoying a class of wine in a relaxing, pleasant atmosphere doesn't just have to be relegated to a wine cellar – especially when any room in your home can be turned into a wine cellar.
With a custom built system of wine racks or shelves, any area in your home can become an oasis for oenophiles. A section in any pantry can easily be transformed into a home bar by adding customized shelves and cabinets for food storage and custom wine racks for adult beverage storage. Even a small corner or niche can be transformed into full service bar with the addition of racks, cabinets and a bar counter.
Another innovative idea is to install custom cabinetry in the master bedroom to be used as a wine cabinet. This is especially simpatico if your bedroom has a fireplace or a balcony where you like to relax and unwind…with a glass of wine! A custom cabinet company can create cabinets using melamine, metal or wood and their variety of finishes is sure to match any décor.
Another advantage of ordering custom cabinets is that they can be made to fit any space and accommodate appliances like a wine refrigerator and other wine accessories. Wine and stemware racks can also be ordered in a variety of matching styles and the addition of the crown molding, lighting and other embellishments will further make your wine cabinet look like the fine piece of custom made furniture it is.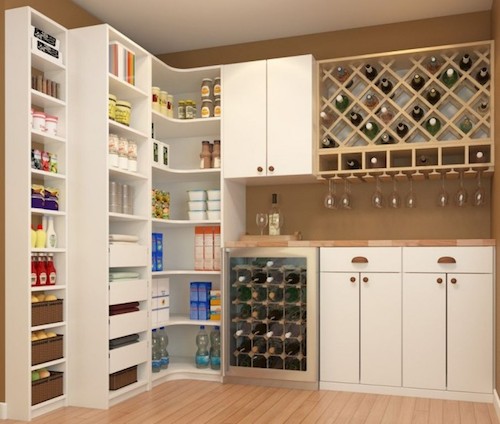 For those with good-sized walk-in closets, creating a wine bar in their custom-built closet system has become a popular trend. Since walk-in closets have evolved to become mini-retreats for both men and women, more and more people are making space for their hobbies or favorite possessions. And, when your hobby is wine, it's easy to add wine racks and wine storage accessories to a custom system.
Sometimes the best or only place to getaway is the garage, which can serve many purposes; not just storage for your car but storage for your life. Instead of outfitting your garage with a mishmash of second-hand furniture acting as storage units, invest in custom-built cabinetry to organize your garage into a clutter-free, pleasant atmosphere. This is especially important if the garage also acts as a place where you and friends like to hang out and enjoy a drink. With custom cabinetry, garage storage and wine storage components can seamlessly blend in together to create one uniform custom system that's not only functional but also aesthetically pleasing.