High School Football Team Gets Custom Lockers, Closet Factory Style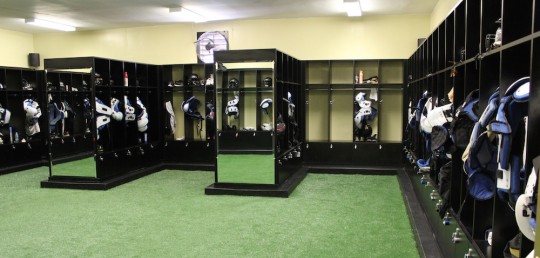 At Peninsula High School, the broken-down lockers and dismal conditions of the 50-year old locker room became so bad the players usually opted to dress in the school parking lot.
Coach Mike Christensen called in Closet Factory Los Angeles for an innovative new locker design that addressed function, style and durability. The result was a win-win for all involved!
The 1960s-era room was completely gutted of its dilapidated metal lockers and ruined carpet. It was treated to a complete makeover that included a resurfaced concrete floor, custom NFL-style open lockers, giant beveled mirrors, new flooring and new paint, all in Panther colors of black and gold.
"The school needed a design that would maximize the space and fit as many lockers as possible," comments Kathryn La Barbera, VP and designer at Closet Factory. "We kept the main sections open, with a small lockable cabinet at the bottom. The result is super sleek and modern, but durable."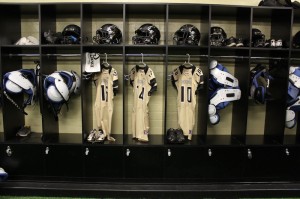 Coach Christensen and his team raised all of the necessary funds so that the room would be complete in time for the team's senior players to enjoy. To expedite the plan, the entire community got involved. Everyone pitched in from school parents to local businesses and even supporters outside the state.
"We were thrilled to take part," La Barbera continues. "It was exciting to see how quickly it all came together."
Crowds of players, parents and boosters attended a dedication earlier this month to celebrate the stunning results. Members of the football team proffered refreshments, gave tours and posed for photos as Coach Christensen described how the team, parents and entire school got behind the effort.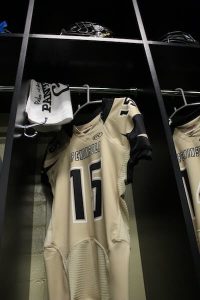 "With the help of many we cleared out the space and had a blank canvas to work with," he said. "The kids needed to have something they could have pride in, and the parents and supporters could actually see how their money was being spent."
The team raised money through car washes, letter campaigns and a major "Lift-a-thon" that garnered sponsorships from as far away as Jamaica. "Every single penny went into this locker room," Christensen says.
Other sports team on campus and even from other schools have been inspired by Peninsula HS football's refurbished locker room and are working towards similar improvements of their own.
Custom cabinetry has many applications beyond the closet, as this locker room makeover shows. Call us for organizing solutions throughout the whole house, including mud rooms, garages and more! (800) 838-7995