Furniture Tips & Tricks to Enhance Your Custom Entertainment Center
Do you feel as if the custom entertainment center in your living room is lacking a little something? You have the latest and greatest television and a surround sound system that just provides the best audio experience imaginable. Yet, the whole entertainment center still feels dull as dishwater.
It's not a matter of what you have but how it's arranged. For one, you don't want the TV to be the focus of the entertainment center (strange, right?) At the same time, you don't want the living room itself to take away all the attention away from it.
So what do you do when stuck at this kind of crossroads? It's to start from square 1, to take a look at the whole set up and see what you could do to improve it. Believe it or not, there's a way to make it so that the rest of the living room doesn't take away from the aesthetics of the entertainment center and vice versa. It all depends on how you organize your furniture.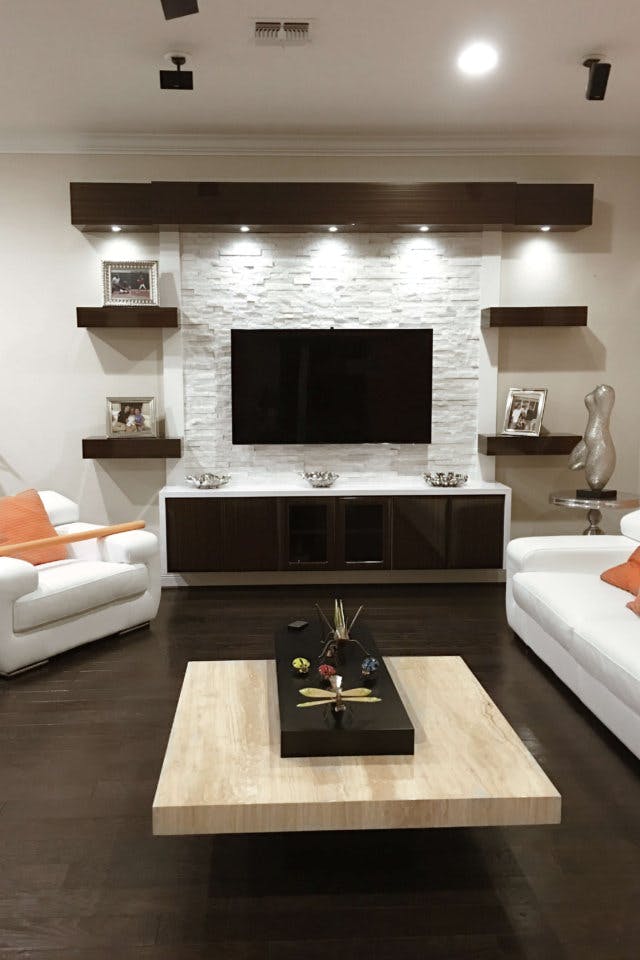 For example, having a wall mounted TV immediately makes it the center of attention in any room. You can stop this by putting two chairs on both sides of the TV and positioning them so they look away from the TV and into the rest of the living room. This makes it so that the entertainment center doesn't overpower the room, yet manages to stay beautiful and prominent.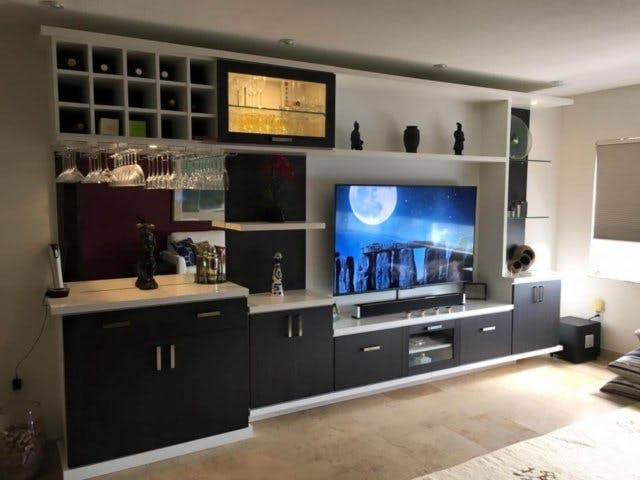 Photo: Derek Enriquez – Closet Factory Designer
If you have a small living space, you're going to want to create the illusion of a large space while an attention-grabbing custom entertainment center is comfortably nestled in your living room. One way to do this is to minimize the amount of items you have on your entertainment center shelves and open-styled cabinets to give your entertainment center the slight impression of a walkway. Combine this with lining up your sofas and recliners in a straight line and you've got a natural looking entertainment center/furniture arrangement combo.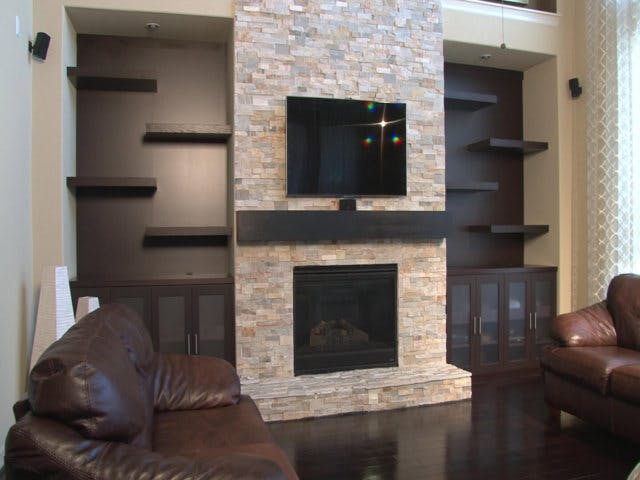 Lastly give each seat in the living room an equal view of the television by having the large family couch parallel to the TV while placing two sofas on both sides of it, facing opposite each other. This set up facilitates conversations more so than others and allows people sitting on the chairs to watch TV whenever they want, without making the TV seem like the only thing they should be looking at.