Entertainment Center Design Trends: French Style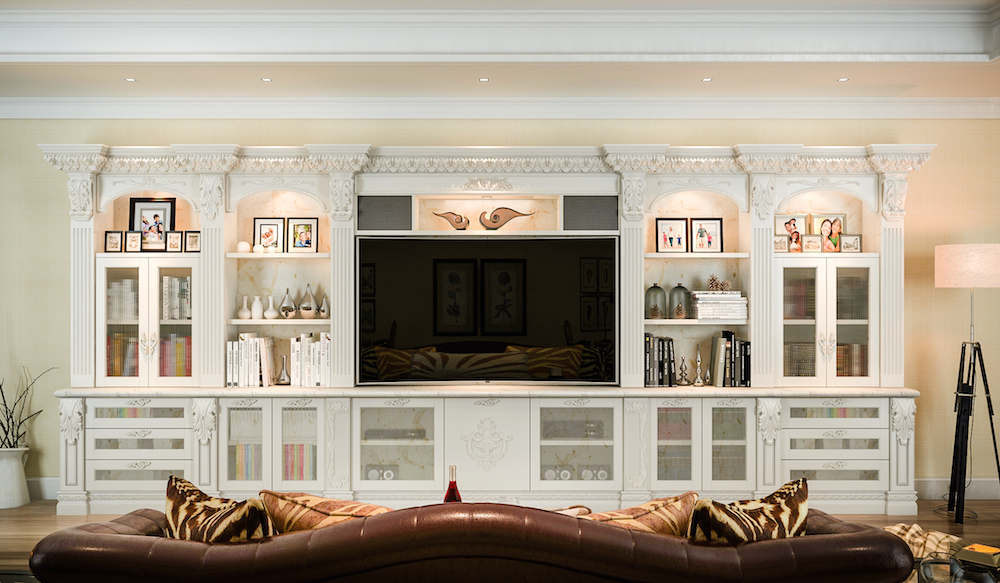 Ornate, decorative and fanciful entertainment centers accented by extensive use of gold and gilt is characteristic of French interior design. Furniture is intricately designed and opulent with curved legs, carved details and gilding. Accessories for a French-styled entertainment center include fluted columns, crown dentil molding and gold toned hardware. Luxury fabrics, floral prints and toile are often used for upholstery, pillows and floor-to-ceiling window coverings. An entertainment center with crown moldings, ornate onlay, carved columns and baseboards is indicative of this style.
The colors of French entertainment centers range from rich, sun-drenched Mediterranean hues to softer, muted shades with tons of metallic accents. Often, one color or fabric is repeated throughout the space. French interior design also encompasses the Baroque and Rococo styles. Baroque features over-the-top ornamental home décor, famously adopted by European royalty in the 17th century. Interiors are highly detailed, accented with luxurious, high-end fabrics like velvet and damask. Rococo is based on the Baroque style, keeping the opulent design elements, but is more whimsical and features more pastel colors.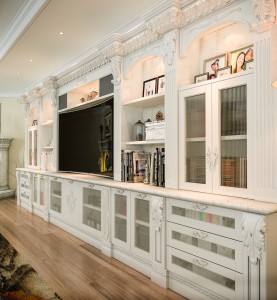 A variation on French interiors is the French Country style, which has a more rustic, old-world and casual look, and is a popular design in home offices, custom closets and custom entertainment centers alike. Common features are stone floors with throw rugs, exposed brick walls, open wood beams and furniture with carved details. Accessories include old paintings, pottery, baskets, glass vases, iron candle holders and fresh flowers in window boxes.
To achieve this – or any – design style, schedule a no-obligation design appointment and get inspiration for your very own French-styled entertainment center!