Custom Closets – A Comprehensive Guide To What They Are
Key Features Of Custom Closets
A custom closet is a built-in closet system that may include rods, shelves, drawers, baskets, and a multitude of other features and accessories. The system has panels that create sections, allowing for different combinations of hanging, shelving, drawers, and cabinets, for storage. These systems are generally floor-based and, more recently, wall hung by concealed brackets, as is the case of Closet Factory's newest custom closet offering, Finesse. A custom closet differs from a regular closet in that it is custom made and specifically designed to fit the desired area in your house as well as the storage needs of the owner, rather than the typical closet that has one long rod with a shelf above it. The following are common key elements of a custom closet.
Custom Design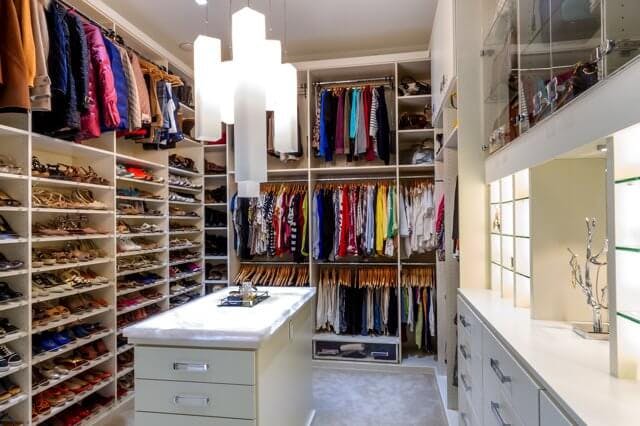 Creating a custom closet design commonly involves working with a closet designer who creates a set of designs that includes a top view as well as wall elevations. These professional designers go through special training, which is always ongoing. The design of a custom closet is based on you and your specific wardrobe and storage needs. It can facilitate anything you wish to do whether it's organizing and displaying your clothes or storing your belongings more efficiently.
Materials and Finishes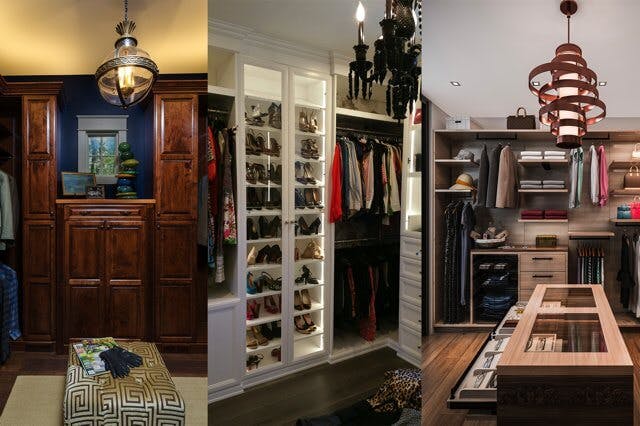 With custom closets, you have a large selection of materials in many colors and patterns to choose from such as:
Solid color melamine
Wood grain melamine
Textured melamine
Wood veneer in many wood species such as maple, oak, and African Mahogany
Custom stained wood veneers
Paint grade materials such as plywood or MDF
Painted finishes in any color
* Custom closet companies may offer staining and/or painting, although not many do this. Closet Factory offers this service.
All of these choices are able to fit your personal style, budget, or the décor of your home.
Panel Depth & Height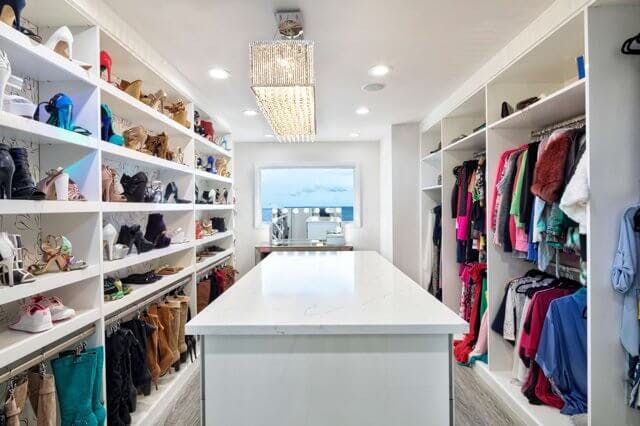 A custom closet design can be as deep as structurally sound, but the most common depths found are 12", 14", 16", 20" and 24". In most cases, designs go as tall as 84-96" or in some cases even taller.
Style Enhancements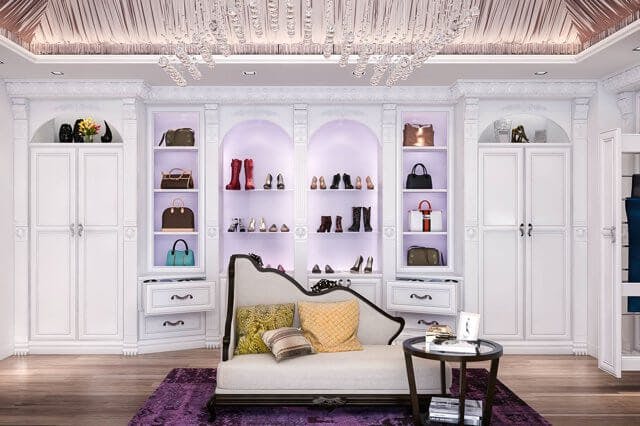 Custom closets can include enhancements or style options, such as:
Architectural moldings
Special doors
Drawer fronts
Glass shelving
Lighting
How Closet Accessories Increase Storage and Organization
Custom closets have a large selection of storage options and accessories, including but not limited to:
Jewelry drawers
Wire baskets
Shoe racks
Hamper baskets
Fold-out ironing boards
Pant racks
LED lighting
Tie/belt racks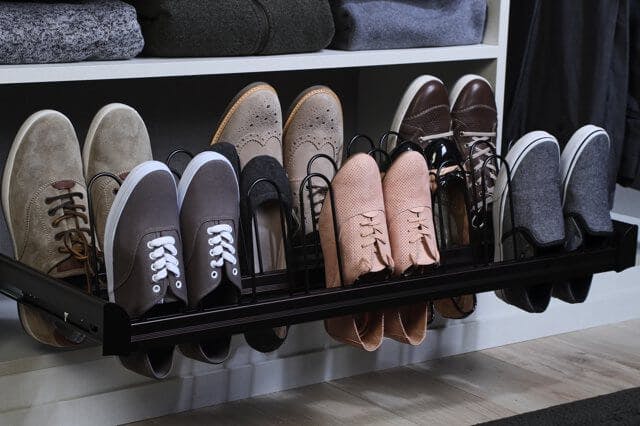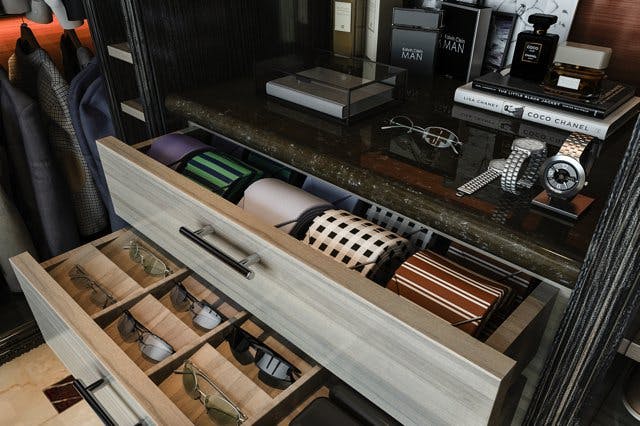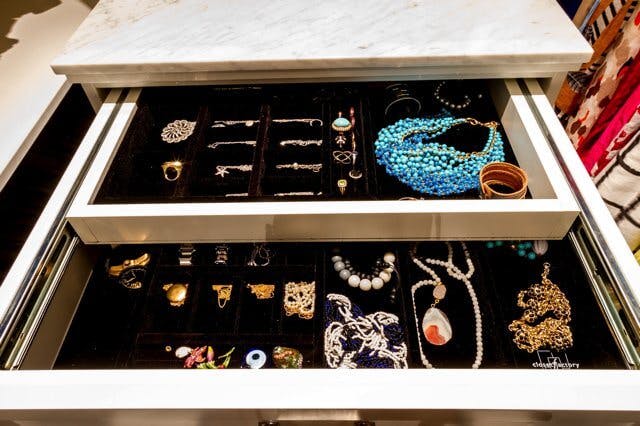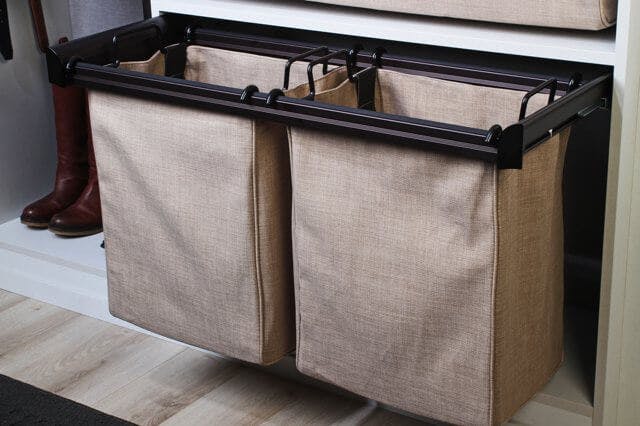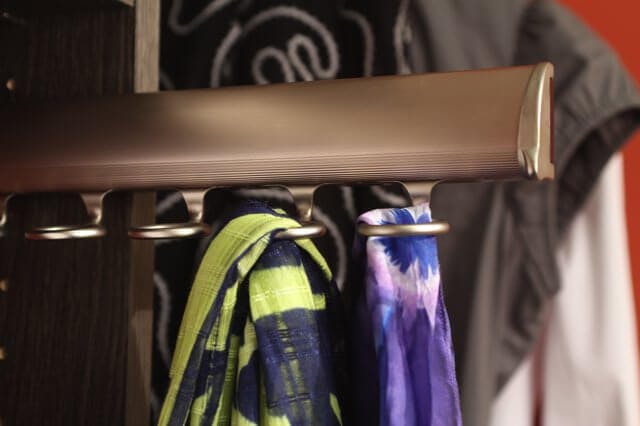 How Closet Systems Adjust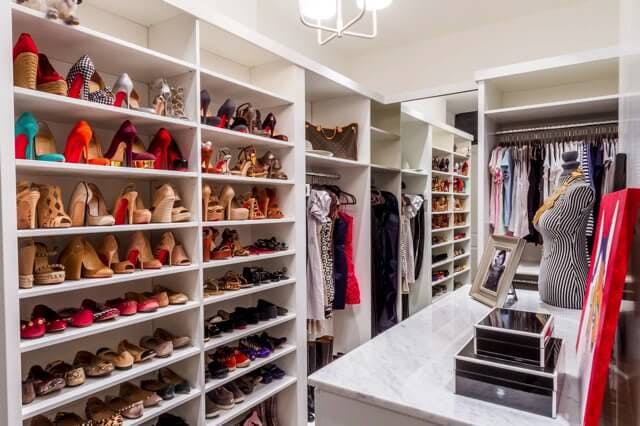 A custom closet can be changed or modified to fit your lifestyle. This is done through rods and shelves that can be moved up and down paneled units without the use of tools, using a bored hole system. Through this system, a wide range of closet configurations is possible. The most popular closet system is a 32 mm system. Many people like to have their custom closets be adjustable so they can change the sections as their needs change, through adding rods and shelves, but since they are custom, they can be designed without adjustability as well.
Furthermore, because custom closets are designed to specially fit a space, they are able to take advantage of typically unused places, such as the corners of a room. A skilled closet designer is trained to get the most out the closet design, especially the most usable space out of the walk-in or reach-in closet.
How Custom Closets Are Priced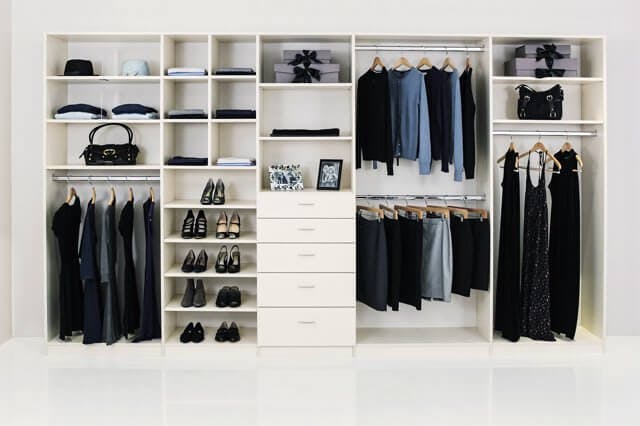 The pricing for a custom closet is based on the materials, features, accessories, and embellishments selected during the design process. They typically start at $125 for one linear foot (for a basic white melamine closet) and can go into several thousands depending on the materials and options selected, such as wood, custom stains, and so on. The client will discuss budget with the designer and will receive a quote during the free design appointment. Quotes usually offer a range in pricing.
Free Design Appointment
For custom closets, a professional designer visits your home and physically measures your space while listening to what you want and need. They bring samples of materials and accessories as well as pictures of designs and finished jobs. Lastly, many may bring computer software to generate your design so you can visualize how your closet will look before you proceed.
Installation is done by employees of the closet company that you choose, and the installation can take 1 day or several weeks depending on the complexity of the design.