Custom Closet Essentials for Your Classic Wardrobe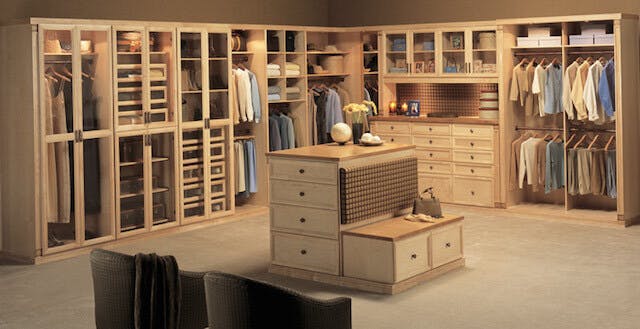 Men and women have at least 10 items of classic clothing items that are essential to any stylish wardrobe. Both sexes have similar items on their essentials list such as a good suit, a nice white shirt, well fitting jeans and of course, shoes. Therefore, to house and organize these wardrobe staples, a custom closet system with certain essentials will not only properly store these wardrobe must haves, but it will also help with closet organization.
Here are the sections needed for a closet storage system to keep everyone's wardrobe essentials organized and well-protected for years to come.
A Long-Hanging Section: This comes with a clothes rod and two shelves, and it's perfect for hanging suits, pants that you want to hang straight and the little black dress that's vital to any woman's wardrobe. The two shelves above the clothes rod are useful for storing that classic black purse and his essential cashmere sweater.
A Double-Hanging Section: This unit has two clothes rods and is useful for hanging the white button up shirt, khaki pants and the navy blue blazer that every man needs. This is also where a woman can keep her must have pencil skirt, black pants, dressy jacket and white French-cuff dress shirt. This is one of the most versatile custom units since you can hang folded over pants in addition to dress shirts.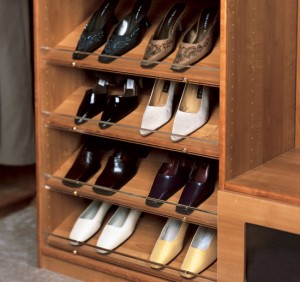 A Shoe Shelf: It goes without saying – a man needs a place besides a cardboard box to store his black dress shoes and loafers. And, a woman certainly needs an easily accessible way to find her basic black pumps and flats. Since it's improbable for a person to only own two pairs of shoes, a flat shoe shelf or one with Lucite toestops is ideal for anyone's shoe collection – no matter how large or small.
Cool Accessories: For a man's brown belt and classic striped tie, a custom built tie rack and belt rack is perfect for hanging both items. A woman can also use these versatile closet accessories to hang her belts, scarves and any long hanging necklaces.
The beauty of a custom closet system is that it can provide you with these basic sections to store your basics because a custom closet is designed to fit your personal needs whether you have two pairs of shoes or two hundred.