How Crown Molding Can Upgrade Your Custom Closet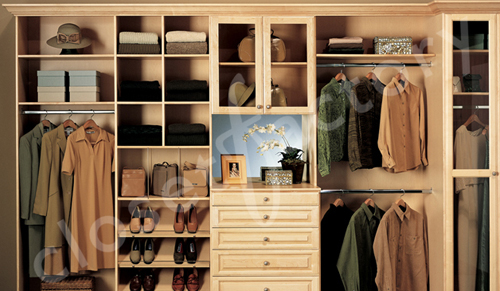 Basic Custom Closet With Crown Molding
People think adding extras like crown and base molding to their closet design will drive up the price into a range they cannot afford.  Not true. Adding crown molding enhances any plain design into a seamless and sleek built in look and it's affordable.  No longer just for the floor and ceiling, many homeowners opt to extend their crown molding into their custom closet and other areas of the home.  Available in a variety looks, no other layering treatment will finish off the top of a custom built-in closet like molding will.  It turns everything it frames into a custom built in look.
It is best to select a molding that reflects the architectural style of your home.   Modern homes often stick to simple moldings with little detail, while an extravagantly detailed home looks great dressed in detailed decorative moldings.  Our closet designers at Closet Factory will be able to advise you on the look that's right for you.
If you are looking for a cost effective way to transform a current room or upgrade a basic custom closet design, adding a lower priced crown and base molding is a great way to amp up the space!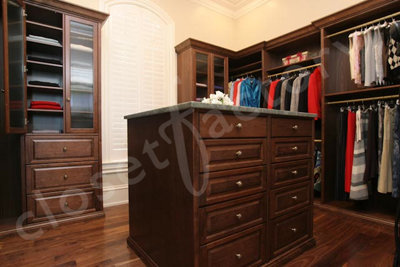 Master Closet with Crown and Base Molding
Notice how the crown molding makes custom closet cabinetry appear to be a built-in feature of the home?  I often hear that custom closets and wall units will even bring up the value of your home.  To see the variety of styles that Closet Factory has available please visit the Molding and Trims section of our website.