Closet Factory Plays Starring Role in TV Show
Closet Factory in Hampton Roads, Virginia is starring in its own reality show, Operation Reorganization, produced in conjunction with Cox Communications. The half hour show will broadcast in the Virginia Beach area on Cox Cable Channel 11. The first episode premiered on Sunday, March 8, 2015 and kicked off a season of 10 new episodes that will air weekly with season two planned for September 2015.
With the tagline, "An organized closet will improve your morning, but an organized home will improve your life," the show provides an inside look at one of the most organized companies in the country. Operation Reorganization highlights the uniqueness of Closet Factory's custom built services from custom storage design to manufacturing through the installation process. Showcasing two-to-three stories each week, audiences will see how the Hampton Roads Closet Factory staff members improve their customer's lives through organization.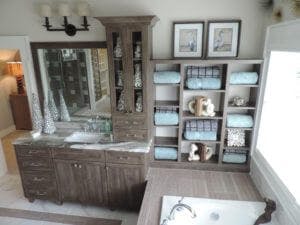 Another interesting aspect of the show is the exclusive behind the scenes look at how a custom closet company works, and the challenges their designers face in creating solutions for various storage issues. The storylines chronicle the unique experiences of Closet Factory's staff of characters and their interesting customers, exploring what goes into each job and how every project is ultimately one of kind.
Closet Factory in Hampton Roads owner Jeff Bruzzesi has a long record of being active in his community through his participation in several HomeARama builder shows where Jeff and his team created smart organization systems throughout the home. Therefore, it's not surprising that Operation Reorganization episodes feature local clients, many of whom are noted community members.
Closet Factory Headquarters in Los Angeles congratulates Jeff and his team on this amazing project and look forward to watching the show. Here is the first episode and be sure to follow our YouTube channel in order to see the rest of the show.