Closet Color Trends: Expressing Personality Through Colors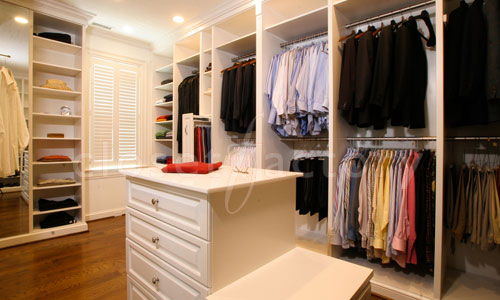 By working in the fashion industry for the past 3 years, I have become accustomed to the ever changing color forecast and trends in clothing. Little did I know that color would have such an influence on organizational systems in homes. Knowing the impact that color can have on the fashion industry, I can now see the similarities of décor and furniture. And now I understand the influence color can have in people's homes.
When I first came to Closet Factory, I saw the color trend for closets as a very "matchy matchy". Many people were choosing darker hues and rich tones. More and more, I am noticing that the trend is changing. Clients are now picking contrasting colors and rich, warm tones. Colors that "pop" are taking prevalence above the darker hues. Having a dark wood floor does not always mean that a closet of the same color will be the best choice. Consider getting away from continuing the same color in a room and play with mixing it up.
Color is an expression of personality and individuality. Clients are leaning towards colors that match their personalities and choosing colors that compliment rather than match. I have seen my clients express themselves throughout their homes in many different ways.
Color will be an ever-evolving aspect of our lives, and I encourage everyone to express their emotions through color choices. The feel of an area can brighten your day, and color plays a greater role in aesthetics than we sometimes realize.
Visit Closet Factory's "Expressions" section for the choice of styles, colors, products, layers, and organizational functionality to suit your custom closet needs. Browse our project gallery for some inspiring ideas. Receive a FREE custom closet design consultation and learn how you can get organized for the new year.