How to Choose the Right Finish for Your Closet
One of the biggest advantages to working with a custom closet company is that not only will you get a custom closet designed to fit your storage needs, but the closet will also fit your décor. That's because a professional closet company offers you a plethora of finishes to accentuate any interior design. Luxury custom closets can come in many styles from sleek modern to ornate traditional. And, when working in partnership with a closet designer, the look of your reach-in or walk-in closet design is entirely up to you and can be achieved through a wide palette of finishes.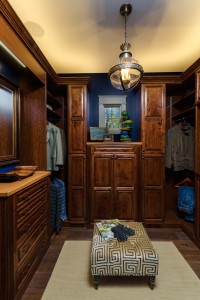 One of the most popular finishes for closet organizers is either solid wood or wood veneer. This finish offers the rich, unique feel of wood. Should you choose to use solid wood, Closet Factory is one of the few companies that does custom wood staining in-house. Keep in mind, should you choose a wood veneer finish, they come in a wide range of colors from light maple to dark mahogany. A beautiful light wood is frequently used to create a woman's walk-in closet accented with fluting and columns while a darker, espresso finish topped with leather accented metal hardware may be better suited for a man's closet.
Sometimes people don't necessarily need their closet to match the rest of their home, so they opt for a pop of color in their closet – especially if it's a walk-in closet that serves as their personal space. You can choose from a wide variety of colors that can be painted or glazed as a finish to match your existing walls or work with your designer to create a whole new color scheme in your woman cave.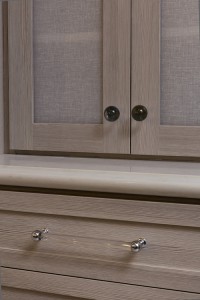 Melamine is an affordable alternative to wood and t's a great choice for high usage areas like a closet or a garage and those who want easy care solutions. Melamine also comes in a variety of colors to fit any décor or color scheme and white melamine makes a functional, beautiful closet. Laminates are another cost-effective and versatile finishes, which are available in a wide variety of designs and colors. Selections include high-gloss, matte and textured finishes that can provide the look of wood and also come in solid colors and earth-inspired designs. For example, you can create a zen-like oasis in your walk-in closet using a bamboo finish, topped with brushed metal knobs, accented with natural tone accessories and LED backlighting. Or for more contemporary look – a high gloss finish will provide a sleek, boutique-like style.
If you want to go with a linen finish, which will give a closet a natural, eco-friendly look or if you want to use brushed aluminum for a more modern interior, this can also be achieved with specialty finishes like a textured melamine surface. Textured melamine achieves a look of richness and beauty, yet it retains the durability expected from this finish.