Custom Closets Feature Boutique Design For Master Bedroom Suite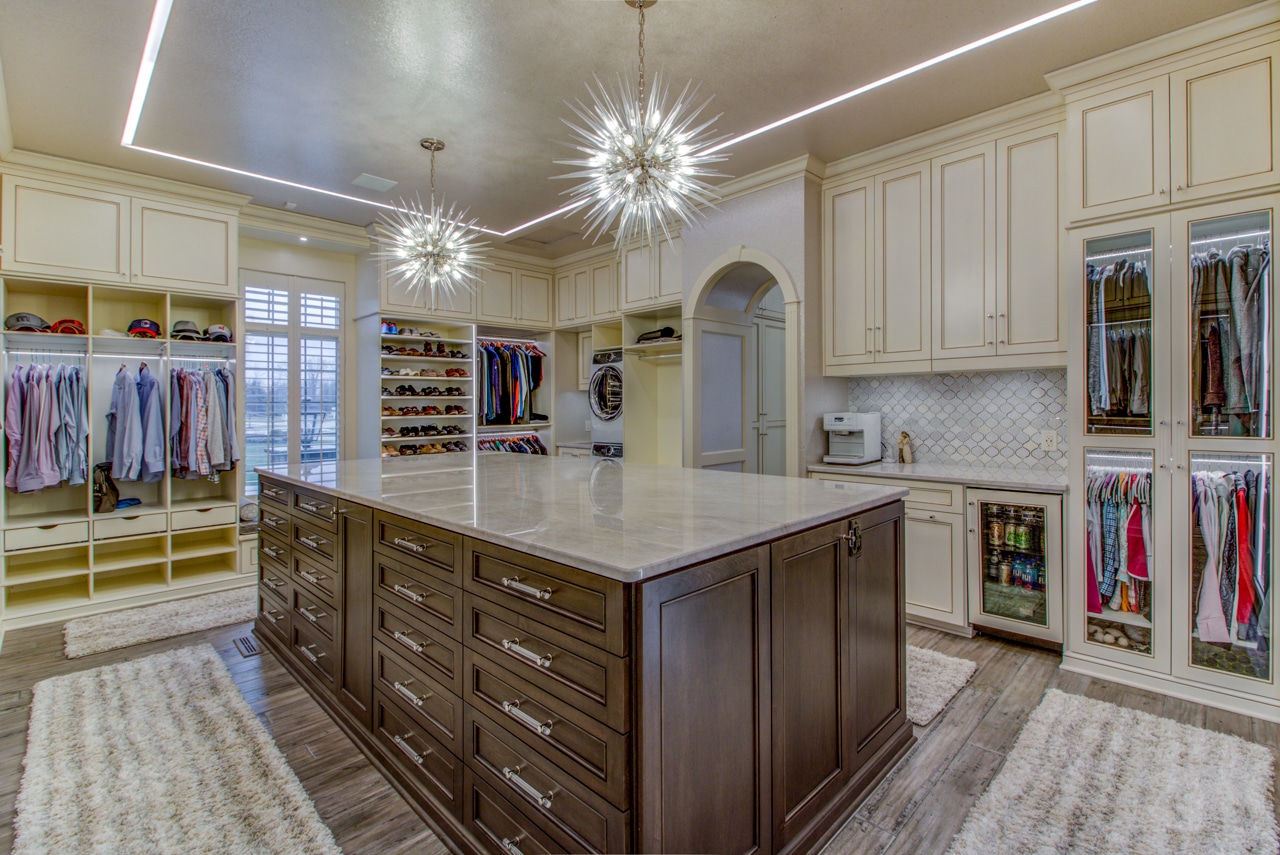 Closet Design Trend Features Celebrity Style Boutique Closets
This project features multiple areas to showcase the homeowner's wardrobe, handbags, accessories, jewelry, and shoes. Every once in a while, one of our closet designers creates a walk-in closet that just really blows it out of the water. Beth Patrick's new design is the perfect example of one such project and features so many trending themes and styles in current custom closet design these days that we just had to share it with you. Creating a beautiful closet system, or in this case a dressing room suite, far exceeded the client's expectations.
Cleveland Closet Factory designer, Beth Patrick turned out a magnificent customized walk-in closet and dressing room suite that includes a built-in vanity with plenty of decorative enclosed storage cabinets, a stunning adjoining luxury boutique style showcase area made of glass for displaying designer handbags and shoes, and last but certainly not least is a large celebrity style walk-in closet complete with an oversized island with countless customized accessory drawers for their many designer brand collectables. The entire dressing suite is filled with gorgeous cabinetry style focal points throughout and feels as if you entered one of the world's top fashion stores or retail boutiques.
"My objective for this space was to achieve a customized boutique style closet that was an extension of the extraordinary quality already throughout my client's home. The project was truly a group effort here in Cleveland, and we gave our all, from design to production, installation to management. It became a custom closet fit for a Hollywood celebrity and most importntly fit into the client's lifestyle. The end result is a showcase closet like we've never seen here in Cleveland before," said Senior Closet Designer Beth Patrick.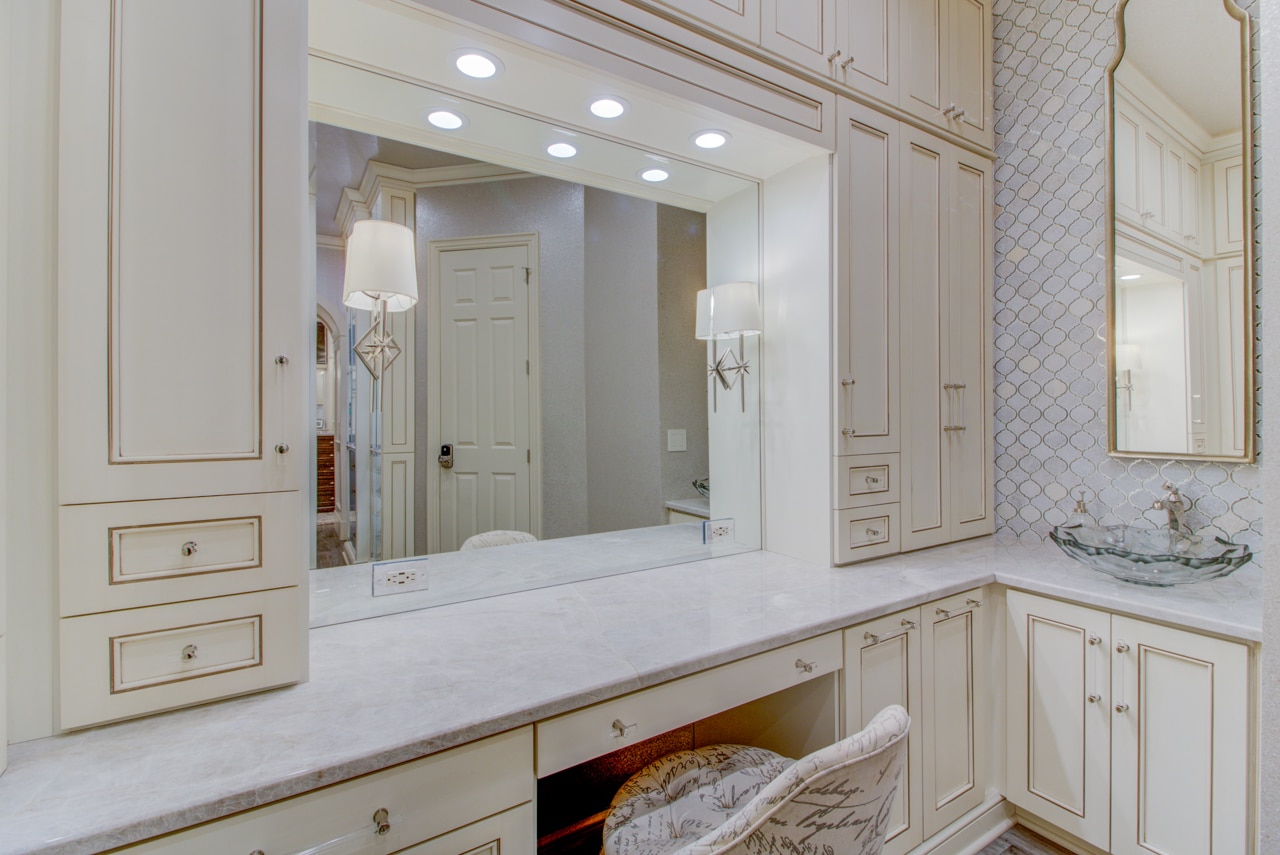 Beth's Closet Design Highlights:
The main structure was made from Antique White Melamine while all the panel and shelving fronts have painted applied wood edges providing an added layer of luxury
All the solid wood doors and drawers were painted and glazed
The cabinetry was floor to 12′ ceiling height, and all shelving and hanging space was 24″ deep
The center island was stained veneer with 40 stained wood drawers and 2 doors.
The island also has a deep storage area for all the client's luggage
The island also featured framed glass inset doors to provide the boutique style showcase
All of the hanging rods were Illuminated, and strip lights, and puck lights helped provide ambient, task, and accent lighting effect.
The room includes painted and glazed crown and base moldings
Iron fix
Pull out blow dry station
Pull out trash cans
Oversized vertical drawers for belts/cologne storage
Vertical drawer for scarf storage
Sliding shoe shelves
Soft close under-mount glides on drawers
Several custom locked velvet jewelry drawers
Custom velvet tie drawers
Wood and acrylic divided drawers
Tilt out hampers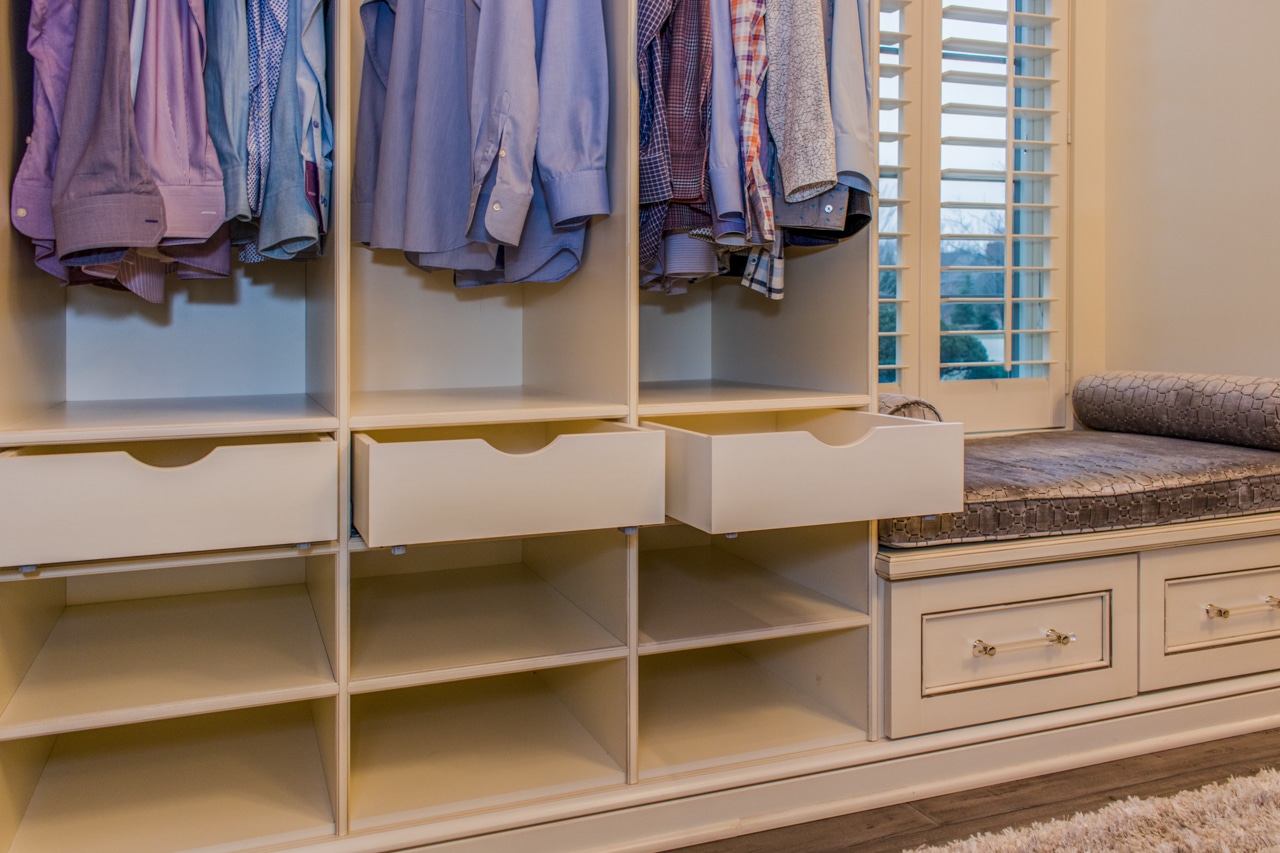 Luxury Items:
Custom built in flat screen TV
Coffee bar with built in mini refrigerator
Shoe shine sink area
Laundry area
Custom window seat
Boutique style display for luxury handbags, shoes, and jewelry
Full wall Vanity Area with counter top sink
Multiple pull outs
Blow dry pull out station
Hidden locked custom jewelry drawers with varied configurations behind full length mirror
The client provided the magnificent dual chandeliers and LED ceiling lighting, all controlled by smart phones and smart home devices.
Beth is quick to tune into her clients' lifestyles, she really knows how to collaborate and see things from the client's eyes. After all, she was a Closet Factory customer for 16 years before officially joining the design team.
Great job, Beth!