7 Merchandising Secrets to Boutique Your Closet
Do you know what makes shoppers want to buy items? It's all about the merchandising, which is simply the art of presenting merchandise in a compelling way to stimulate imagination and desire.
That same technique can be remarkably effective in making your own closet design a more organized and attractive space. You, as the "shopper" come to your closet to find and select your outfits. You see things in a whole new light when they are neat, artistically arranged and paired with complementary items.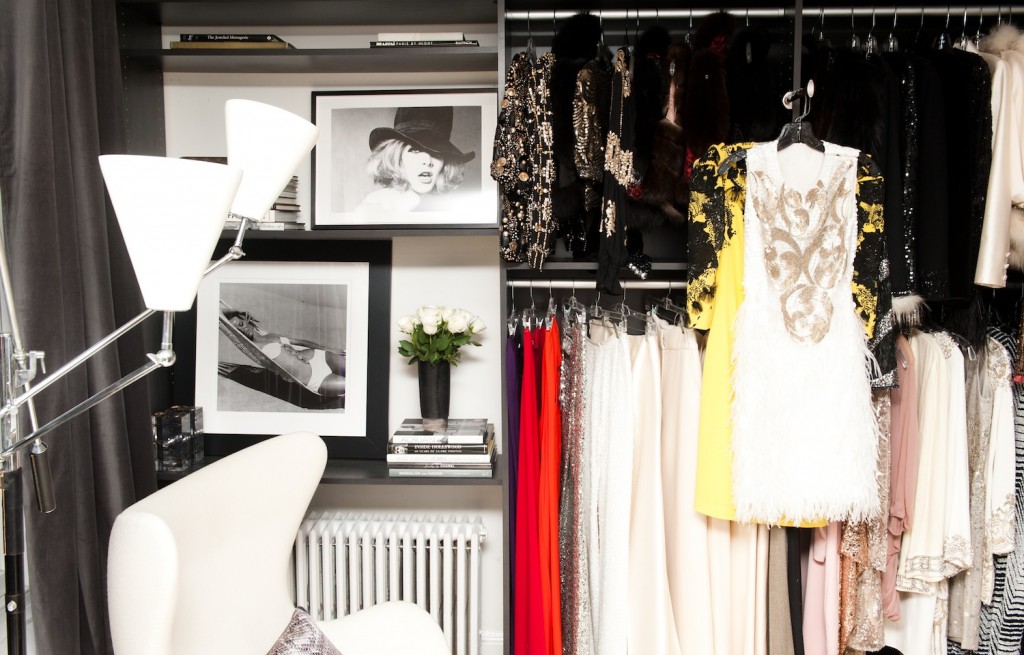 The boutique closet trend has caught fire lately, due in some part to reality shows and movies in which getting dressed is elevated to an art form. At the same time, apparel retailers strive to create an intimate, personal vibe within their shops that actually mimics a personal closet. They want you to feel both energized by the array of merchandise and comfortable trying items on.
Visual merchandising is underpinned by spatial and color organization that results in being able to find what you want very easily. So it makes perfect sense to use the same techniques to get dressed more efficiently and sincerely enjoy the process. Best of all, boutiquing your closet is very easy to do.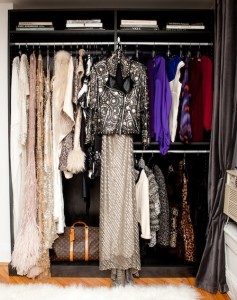 We've gathered some of the techniques retailers use to make their stores beautiful and stimulate sales. The best way to start is with a clean space. Move your shoes and clothing out of the closet and weed out what you don't wear. Then reorganize, using these suggestions:
1. Practice artful storage. In a shop, much thought is given to whether a product should be hung, folded or carefully rolled in a basket. The same holds true for your wardrobe. Maybe your jeans should be neatly folded, from light to dark, while the rest of your dressier pants get hung near your dressy shirts.
2. Organize by "departments."

Perhaps one side (or wall) for casual/weekend clothes, one side for work clothes and the middle for church and special occasion.

3. Display the good stuff. Create at least one little area for a display. This could be a small countertop above drawers or a large cubby with a hook or valet rod to hang items facing forward. Use it for your favorite leather jacket and Doc Martens; the outfit you just bought; or tomorrow's work clothes. It's important to change it up and keep it fresh.
4. Hone your formatting skills. Always format your clothing, by color and type. Hang shirts from light to dark, then skirts light to dark, and so on. If possible, invest in quality matching hangers for each group.
5. Samples, please. Show a great handbag or scarf even if the rest of them are hidden away in a storage box. It will remind you to accessorize and adds visual interest to the closet.
6. Spotlight on shoes. Shoe shelves are the best way to present all of your shoes. But you can showcase one or two of your favorite pairs elsewhere, perhaps between two stacks of folded clothing or on a countertop surface. Use built-ins or freestanding furniture that provide storage space off of the floor.
7. Bring it up a notch or two. Many of our accessories bring your "boutique" to the next level. Consider a waterfall valet to show off all your beaded jackets, or a jewelry drawer lined in velvet for all your valuables. Your Closet Factory designer will have lots of suggestions.
Boutique your own closet and attain great wardrobe organization at the same time! Learn how a Closet Factory designer works with you to get the most out of your closet.