5 Stylish Ideas to Keep Neckties Neat
Father's Day will be here before you know it. Sometimes dad can be a little hard to shop for, but year after year the trusty necktie tops the list of Father's Day gifts. The dad in your life more than likely has quite the stash of ties. Whether he likes cartoon characters on his ties or prefers the polished professional look, chances are, he could use some ideas on how to neatly store and organize his ties.
Neckties are delicate and impressionable. If you're not careful about how you store them, they can be permanently damaged with irremovable wrinkles and creases. More importantly, without a good system for storing and displaying ties, they can become hard to find in closets or drawers.
Help dad protect your annual Father's Day tie investment. Here are some of our recommendations for storing ties in his closet.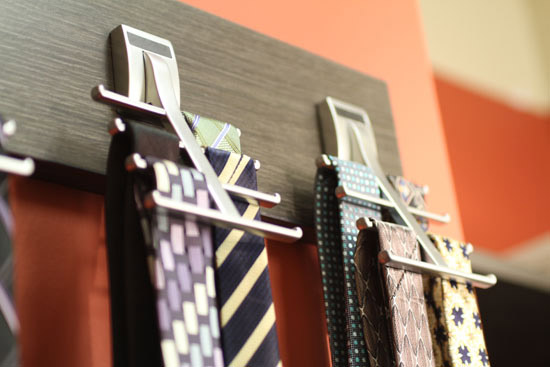 1. Tie Hooks
These handy little gadgets can be affixed to any wall inside or outside of a closet. They help keep ties neatly separated and displayed. If you're thinking about building a custom closet a section of tie hooks can easily be added to your design plans.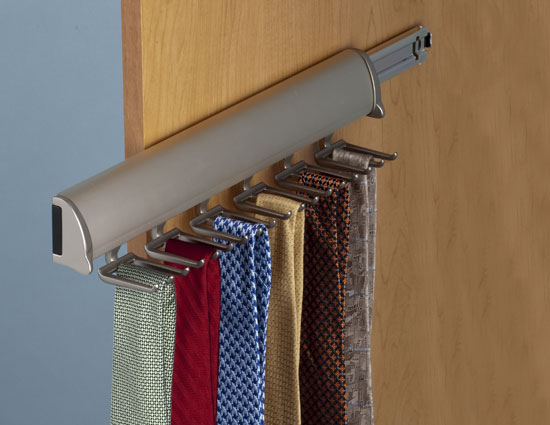 2. Pull-Out Tie Rack
A pull-out tie rack can work great installed behind a closet door. They also work well at the far left or right end of a reach-in closet. You can install one of these on your own in an existing closet or add one to your custom closet plans. The pull-out tie rack keeps ties out of sight when you don't need them, but at your fingertips when you do.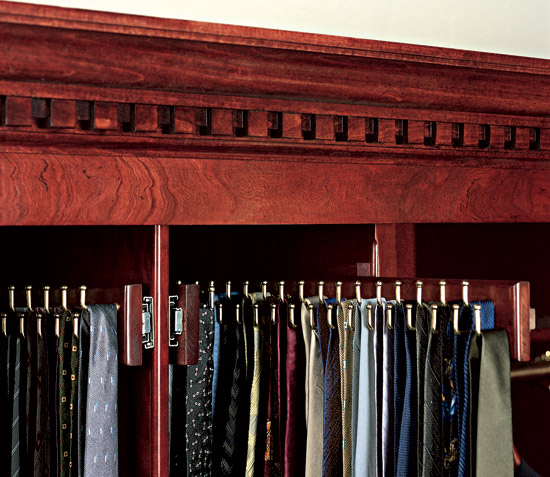 3. Built-In Tie Rack 
A built-in tie rack offers as much tie storage as you need. These custom racks are built right in to your closet. They offer a more elegant solution and often offer more storage than a DIY option.
4. Pull-Out Tie Cabinet
This is another option that's a great addition to a custom closet. Pull-out tie cabinets keep ties cleverly and completely out of sight. You can work with a designer to hone in on how many cabinets you would need and discuss the perfect finish to match your bedroom.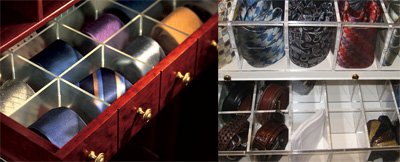 5. Drawer Dividers
There are more ways to store ties than hanging. If he prefers using drawers, you can sort and protect his ties by adding simple drawer dividers. Drawer dividers maximize space and create an attractive tie display.
Help dad get organized with a custom closet solution of his own.  Contact us
for a free in-home design consultation today.
Article written by Johnnya Burruss