4 Tips For Storage of Dress-Up Clothes – Kids Closet Organizers
My children love to dress up in costumes. Hence, we have acquired a ton of them. Capes, hats, and tiaras are abundant for any child who wants to role play at my house, in addition to the full-body zip-up style costumes normally reserved for Halloween. It is possible that my kids have more dress-up clothes than regular play clothes. Once, I took pictures of the collection. I filled up this rug four times over to capture it all.
So how do you keep this kids stuff organized?
Don't horde it.

Costumes are some of the most rewarding hand-me-downs to pass along. Keep a revolving door approach to your collection and all the children involved will be pleased with the flow of new-to-them items. Hit the second-hand stores in October when they put their costumes out, and trade in too-small items for ones that fit this year. Better yet, organize a swap with a group of parents.

Use stacking tubs.

When my son was three, his grandmother gave him a huge plastic container with a lid labeled with adorable letter stickers reading "Julian's Dress-Up Clothes". She had half-filled it with items left over from her children's dress up collection: a top hat from my sister's dance show, an old tie of my dad's, and a pair of clogs that my own grandparents had brought me from Holland when I was a child.  Eventually we had to add more tubs and divvy the items into categories: Hats and masks; princess stuff; everything else. Now we have three tubs of costumes and accessories.

Hang it.

If your children do not have a full wardrobe of hanging clothes in their closets, placing a few bulky items on hangers will keep them from filling your other designated dress up space. My kids have some lower level closet rods where full-body costumes like the ones below are hanging.

Hook it.

If you've got wall space at your children's eye level, install hooks that can hold dress-up clothes. Easy access increases the odds that kids will hang them back up after a dramatic play session.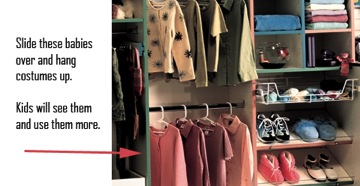 Do you have space in your children's closet for dress-up clothes or do you use another storage solution?
Article By Whitney of Rookie Moms!
Check out these other Rookie Moms Articles: