How to Pick Paint Colors for a Wall Bed Bedroom

A wall bed is often cleverly concealed by unique custom cabinetry. At Closet Factory, for example, cabinetry is made from melamine or laminates in a large variety of colors and textures as well as custom stained or painted wood. There's also a huge selection of hardware to create exactly the look you want.
What this means is that the wall bed cabinetry usually becomes the focal point of a room. Now you have to figure out the best wall colors to honor that yet create a calm, cohesive space.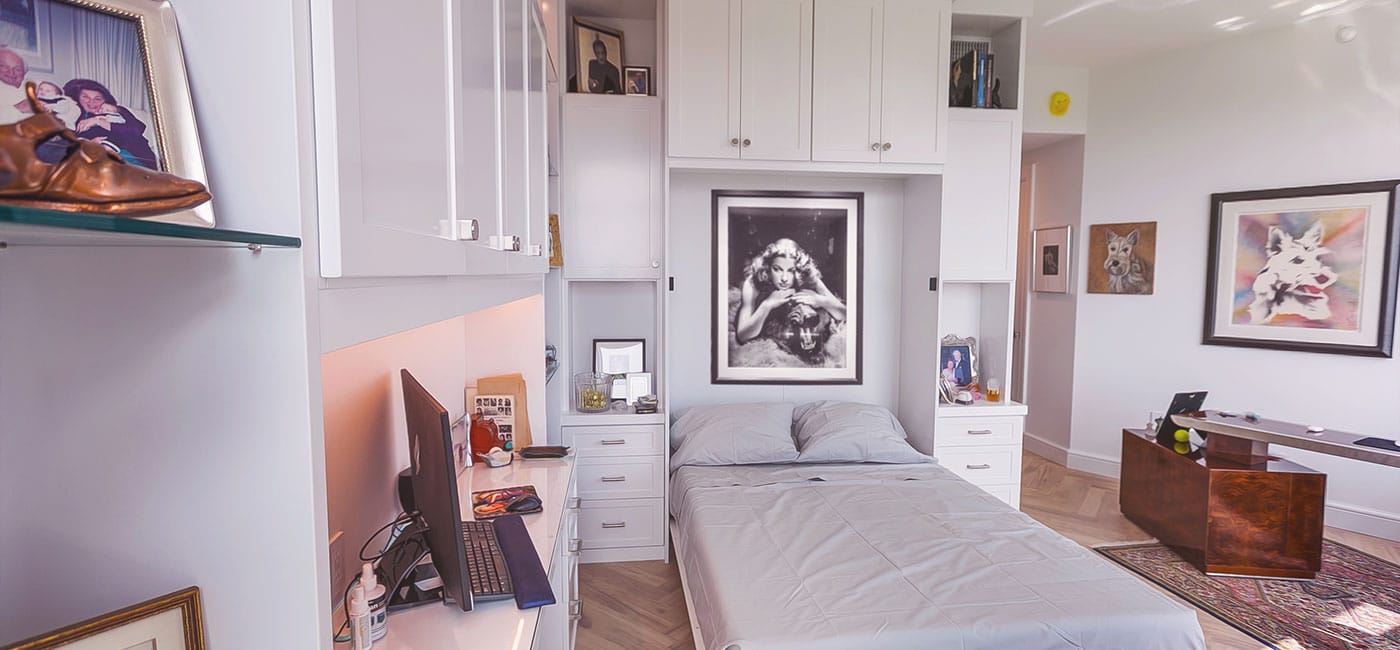 Keep the following five steps in mind and you're well on your way to the perfect palette:
Step 1: Get a color wheel
A color wheel is an essential tool for a paint project. It lets you see the relationships between different hues.
Familiarizing yourself with the color wheel can help you understand how to best mix and match a cool color with a warm one, for a naturally balanced room.
Step 2: Assess light and space availability
In addition to the finish of the Murphy bed, the amount of light and space is important to consider when choosing paint. Lighter colors tend to make a room appear bigger and airy, so they are best used in small rooms or rooms with poor lighting. Dark, bold colors add a sense of drama and are often used to draw accents together in larger spaces.
Step 3: Choose a color family
Base your overall color scheme around the dominant hue of the wall bed cabinetry finish.
A popular trend is to use contrasting colors. To do this, select wall colors that are in stark contrast to the Murphy bed by selecting from hues on the opposite end of the color wheel. For example, if your bed cabinetry has a brown or golden wood finish, select paint colors that are on the opposite end of brown and gold such as medium blue, soft gray and teal. Red is the dominant underlying tone of a cherry-stained wood, so an earthy green would pair well with this.
Step 4: Be creative
You don't have to paint all four walls the same color—consider a second color on one wall as an accent. How about painting the inside wall of the Murphy bed a bold color and using soft tones on the rest of the walls? Look at lots of great rooms for inspiration, and envision ways to create a cohesive space that best expresses your personality and style.
Tip: Purchase some inexpensive paint samples and play around with them before making a commitment.
Step 5: Accessorize
After you've painted your walls, dress the room with accessories that coordinate both with your new walls and your wall bed cabinetry.
Before committing to a piece of furniture or an accessory, don't be afraid to ask for a fabric swatch or take a picture to bring home and compare against the walls and Murphy bed before making your purchase.