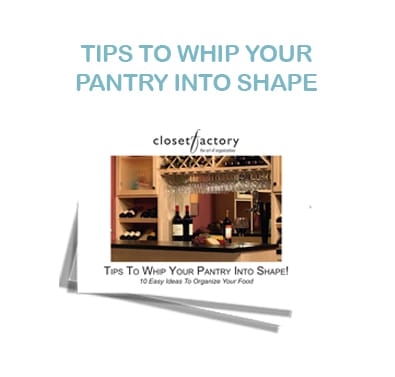 About This Guide
If you're like many people, you enjoy entertaining, cooking, and using the kitchen as a central gathering spot for family and friends. That's why it's important to keep it organized and beautiful. Obviously, a new custom kitchen pantry system would go a long way toward creating a space that is organized and efficient, making cooking and cleanup much faster and more enjoyable. However, even with a beautiful kitchen pantry, there are some strategies you can follow to make your pantry more organized.
Inside our guide, "How to Whip Your Pantry into Shape", Regina Leeds New York Times best-selling author and Zen Organizer, provides some great strategies to maintain a beautifully organized pantry. Because Regina has been a professional organizer for over 20 years, she has observed that many people live in unorganized spaces whose chaotic energy sabotages them at every turn. Throughout this guide, Regina's main goal is to help you live life to the fullest. She accomplishes this by teaching people how to consciously transform their chaotic pantries into spaces that literally nurture and support them.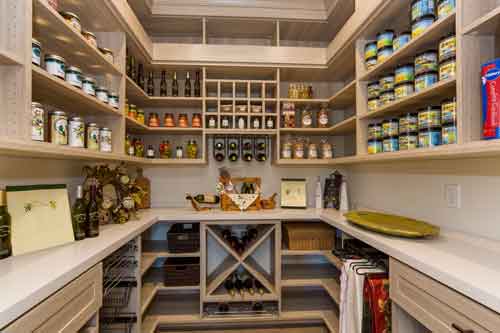 Specifically, you will learn valuable tips on how to organize your food in your kitchen, paying careful attention to creating a system for labeling dates and contents for immediate identification. In addition, you will learn how to create an emergency supply of food that can be quickly accessed in case of emergencies. This guide book will also allow you better leverage floor and counter space in order to free up your kitchen.
In addition, Regina points out that there are three other important things to consider when planning and organizing your kitchen pantry. Some of these include:
Incorporate smart pantry accessories
The key to a successful kitchen pantry is to include a creative, functional design. Shelving, drawers and baskets can be incredibly important to accommodate the multiple needs and uses of a pantry, ensuring accessibility and order in a space where items are continually removed and replaced.
Include Sliding Storage Shelves
Sliding storage shelves allows for easy access to items that are hidden in the rear of a cabinet, while vertical shelf dividers organize everything beautifully.
Wide Drawers
Pantry drawers should be designed with as much width as possible so that you can gain a better view of their contents. Well-designed drawers can also be a good place to conceal utensils and cooking equipment, or make snacks easily accessible for children.
Create Open Shelving
Open shelving is a very popular style for many kitchen pantries, and can a great way to store and display everything from cooking ingredients to dish ware. Open shelving also encourages better organization while also keeping countertops free.
Click below to download your guide!